LITTER INFO

Ivan was bred to Xtra on January 3, 2011 for a spring litter. Deposits accepted at the time of whelping on this litter which should be due March 7, 2011, ready for new homes the first week of May. Pups are priced at $700.00 on Limited AKC Registration and $950.00 on Full AKC Registration, shipping costs if applicable (health certificate, crate, airline charge)will be extra. At the time of whelping, deposits of $100.00 will be accepted, pups are placed in order of the deposits recieved. Remaining balance must be paid before pups leave for their new home. Deposits will be refunded under special circumstances only, otherwise they will be moved to the next litter.

I am expecting great temperments, nice structure, size and color from this breeding!! Black and Reds or Black and Tans! Some long stock coats possible. These puppies should make excellent companions, obedience, tracking or agility dogs and possible schutzhund propects! For more info on Ivan and Xtra click their names under the pictures above.
Ivan is a large, black and red/tan male standing 26 1/2" and weighing 105 lbs. The above pictures taken in our back yard and at the International Dog Show August 2010. He is a sweet, happy dog with a desire to work and please. He has a calm, stable/ confident, outgoing temperment. Ivan has an infinate desire to chase and tug a stick outside and loves to play ball in the house, but he does have an off switch and is content to lay around when nothing is going on. Click his name under his pictures for more info on Ivan.
Xtra is at the top of the standard (24") black and red female with a gorgeous thick coat. She is pink papered and was imported by me from Kirschental kennels in Germany as a puppy. She is an active dog with a zest for life, she is very vocal and has good protective instincts. Although Xtra is always ready to go she too is a calm dog in the home. Unfortunately I did not train as planned with Xtra, but believe she would have done well at tracking as she showed good focus and food drive. As a puppy at training she enjoyed the bitework and consistently bit the rag, tug and sleeve. To see more pictures and learn more about Xtra click her name under her picture.

Xtra is the proud mom of 5 healthy puppies! Born on her due date of March 7th. She has four males and one female for your consideration!
Sorry, all pups are sold!
1.Male puppy ~ Thank you Jason and Shellie!!
1.Female puppy ~ Thank you Cindy!!
2.Male puppy ~ Thank you Kelly!!
3.Male puppy, Thank you Mike and Jan!!
4.Male puppy ~ Thank you Ron and Nancy!!

| | |
| --- | --- |
| | |
| --- | --- |
| Four days old!. | Nine days old. Eyes should be opening soon!!. |
| | |
| --- | --- |
| Pups are 3.5 weeks, with my grandkids ages 7 and 3 years. | Socializing with the kids! |
| | |
| --- | --- |
| My daughter in law with orange collar. | Rylie, 7 years old with the pups at 3.5 weeks! |
| | |
| --- | --- |
| Yellow 6 weeks, with my son and youngest granddaughter. | To cute! Purple watching TV with my oldest granddaughter!! |
Pups at 6 weeks of age
| | |
| --- | --- |
| Purple Collar, color coming in good, pics don't show! | Pink Collar still a wiggle butt! |
| | |
| --- | --- |
| Orange Collar, bites hard, getting big, ouch! | Lime Collar, sweet as a bugs ear!Cuddle Bug! |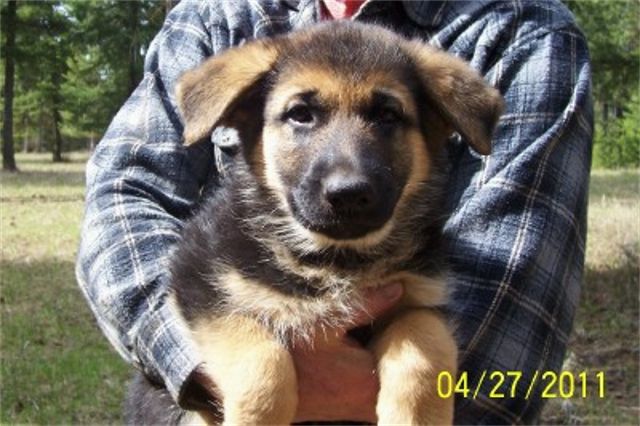 Yellow Collar, on hold, I may keep this guy, got the ear thing going!
For a picture pedigree of XTRA click her name!
For a picture pedigree of IVAN click his name!
If you would like to see Xtra's OFA results Click Here!
If you would like to see Ivan's OFA results Click Here!
If you would like to see Ivan's Titles, Certifications and Judges Critiques Click Here!
Guarantee
Puppy Pedigree
International CH. Ivan v Big Sky, CD, CGC, OFA (fair, normal elbows)

SG Graf Bavo v Bergweiler SchH 3, Kkl2 BH,U-CD,CD,WD OFA (good h/e)
Tino v Beilstein SchH3,FH,IP3 "a" normal (23x SchH3)
SG Vara v Luckenroth SchH 1 "a" normal
Addie v Big Sky Certified Therapy Dog, RN, CGC, OFA (good h/e)
Tell V Big Sky SchH 1, BH, CGC, OFA (Excellent, elbows normal)
Abby v Big Sky OFA (good h/e)
Xtra vom Haus Kirschental OFA (good h/e)

V Talko vom Kirschental HGH "a" normal
VA Esko vom Danischen Hof SchH 3 "a" normal
V Aische vom Kirschental HGH "a" normal
V Rania vom Kirschental HGH "a" normal
VA Yasko vom Farbenspiel SchH 3 "a" normal
V Ganja vom Kirschental SchH 1 "a" normal
| | |
| --- | --- |
| Maggie, a 6 month old female from Ivans first litter. | Scout, a 4 month male from Ivans first litter also. |
To see more pics of typical Big Sky Shepherds pups please click my Testimonial and Cute Puppy Pic's links.
If you would like to see how I raise my puppies Click Here!
Nancy Tremblay
P.O. Box 565, Superior MT. 59872
(406)822-4006