Testimonials

2011 ~ Below are pups from a 2011 breeding between Ivan and Xtra!
The below puppy was my pick puppy I called Buck aka Yellow collar!I decided the time was not right for me to keep a puppy and sold him to a wonderful couple. His new name is Trace. I stopped by to see him the other day and took a few photos. Their gain my loss...he reminds me alot of his great grandpa, Tell v Big Sky (my heart dog)!
Hi Nancy -
We're so happy that you stopped by - please come again. Thank you for the pictures. We really love Trace and are sooooo happy to have him with us. Jan.
Click the thumbnails below to enlarge pictures.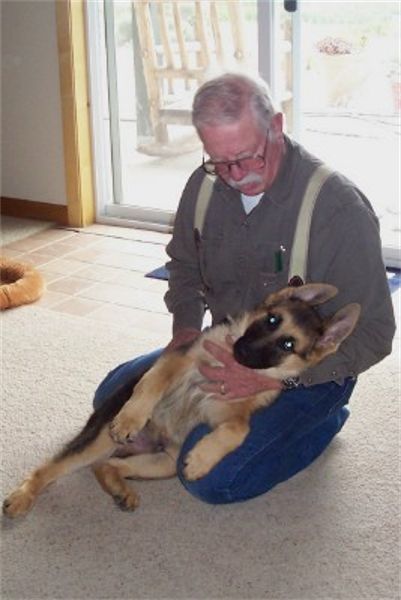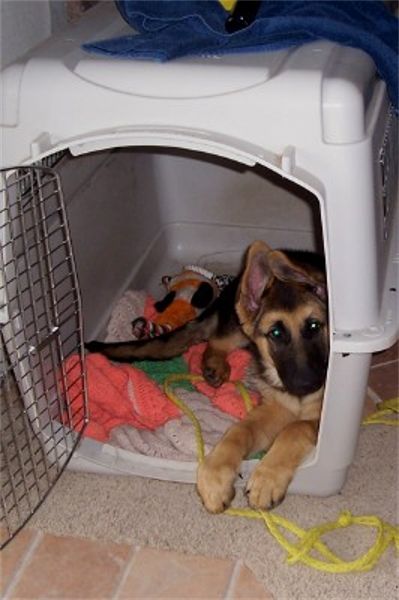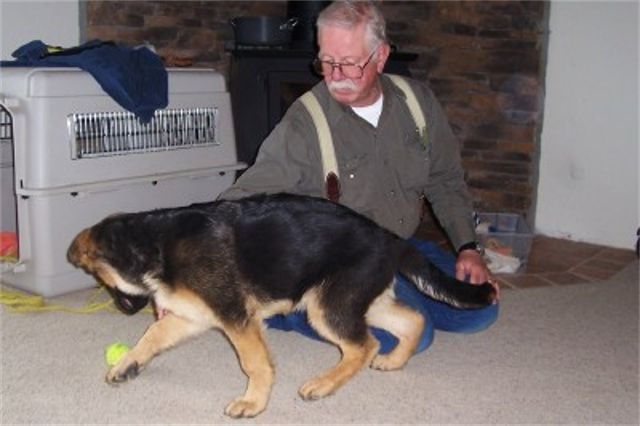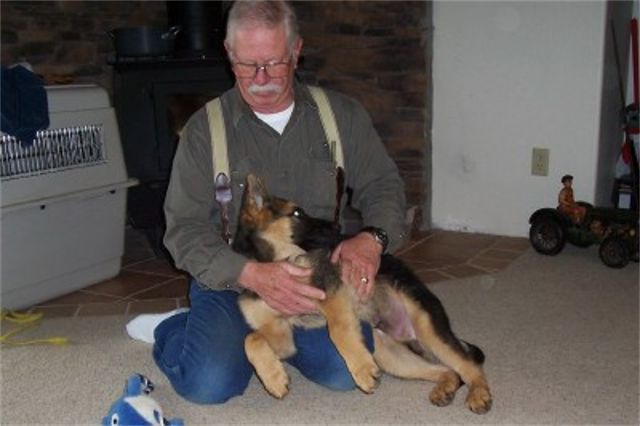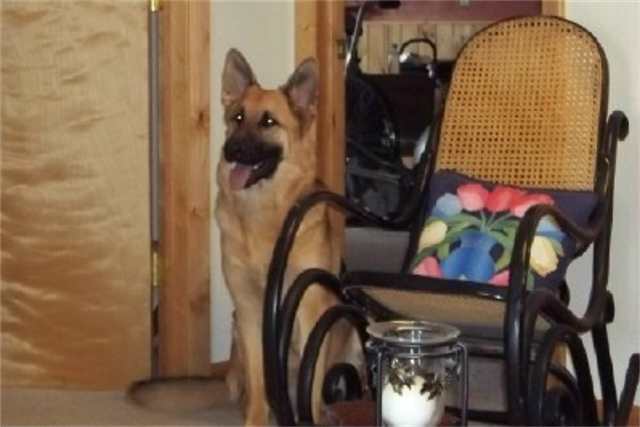 Orange collar puppy! New call name Ruger! More pics are on the way.
Ruger and King do pretty good together a lot of rough housing. King is a month older slight advantage but Ruger holds his own. I took your advice about the crate it is working well.
It helps Shellie sleep. Good luck with your final pup whatever you decide.. Jason
Click the thumbnails below to enlarge pictures.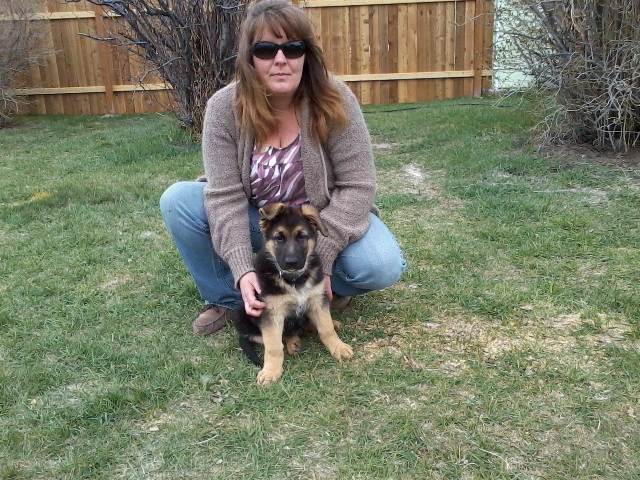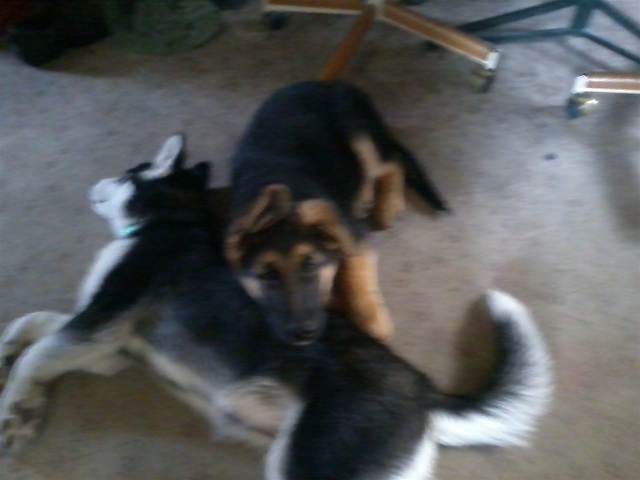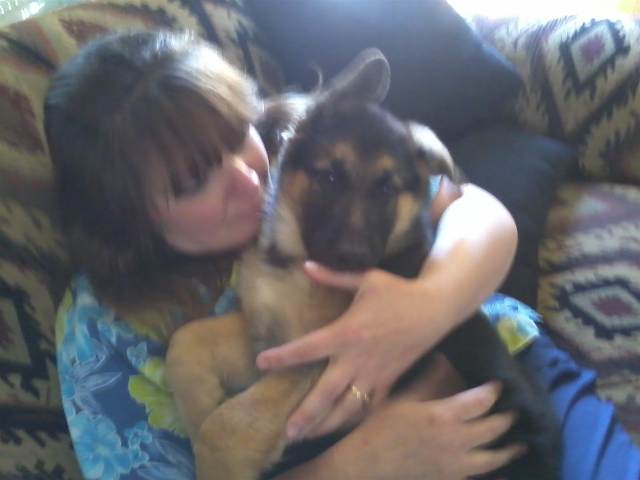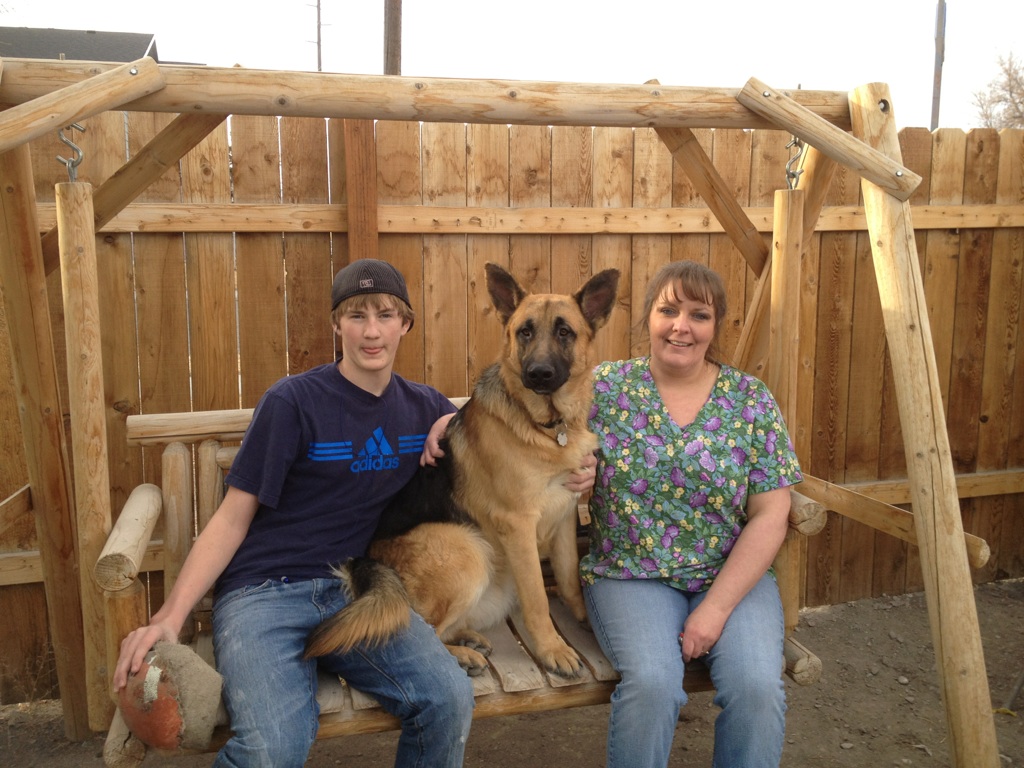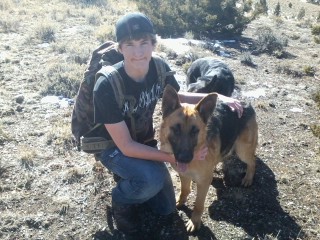 Pink collar puppy! New call name Lexa! The only girl in the litter with her beautiful friend, Lea. Cindy has been great with keeping in touch!
Hello again...
Yes, Lexa is very busy, but I think settling into our routine. She doesn't mind going in the crate at night now and sleeps all night until about 5:00 a.m. She seems to know her name and responds when I call her. I started putting a little leash on her and have been trying to teach her "come" and "sit". I've been using your tips on how to train on "sit"...so clever...it works really well! I've also been trying the "search" command and have her follow my finger to a stashed treat...but that one has been a bit hard as she usually gets distracted or wants to bite on my hand! I only do these things for about 10 minutes or so because her attention span is quite short!! Today is the most inside time we've had since we got her as it is raining "cats and dogs" out there! I've attached photos for you...some active and some rest. We have had lots of visitors over the last week stopping by to see her, so she is getting quite a lot of socialization. Yesterday, my sister stopped by with her two dogs - a Fila and a basset hound...the basset hound is only just over a year old and the two of them really played...it was so fun to watch. Lea actually seemed a bit protective of her if things got too rough. Lexa was also quite taken with the Fila - a big male...she kept loving up to him until he played a bit also.
I hope that you do have time to get some titles on Xtra...that sounds like a lot of fun to get involved in. Maybe I will consider doing something with Lexa...keep her (and me) busy!
Talk to you soon...
Cindy
Click the thumbnails below to enlarge pictures.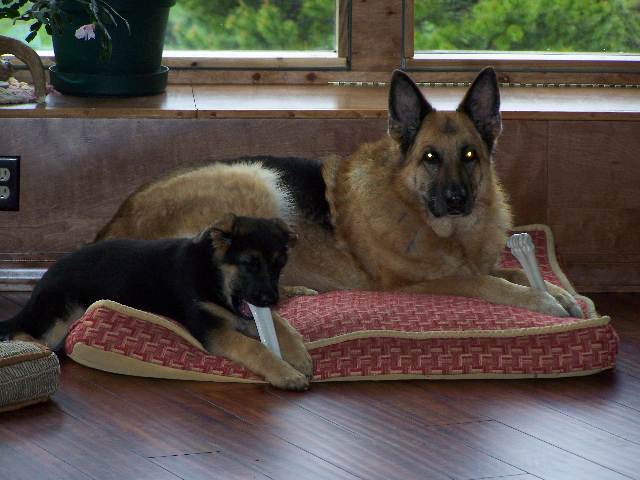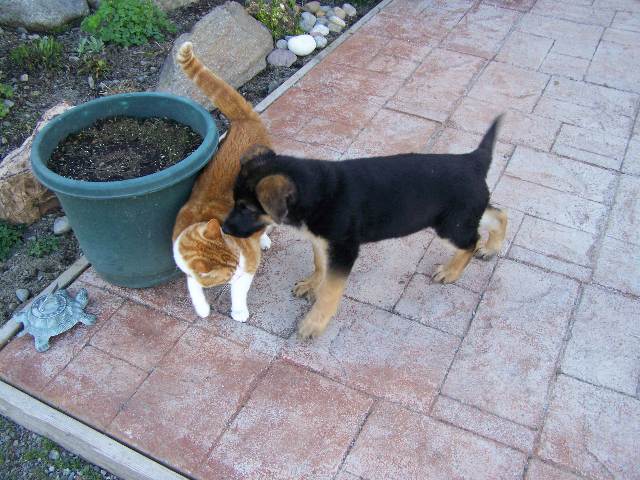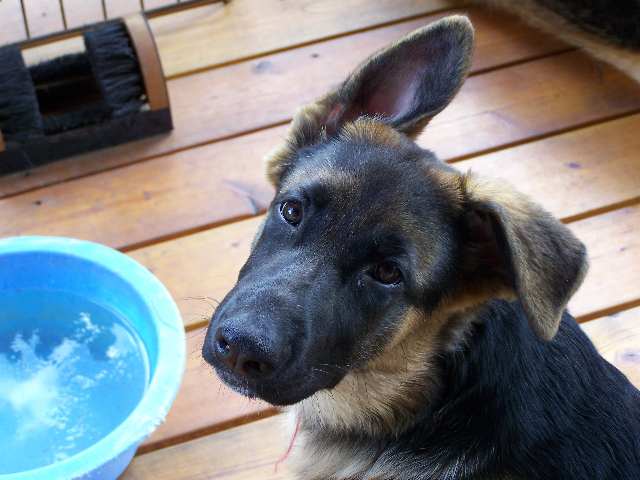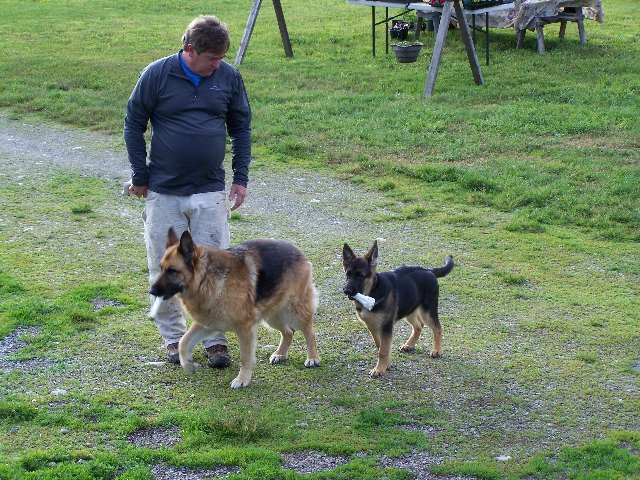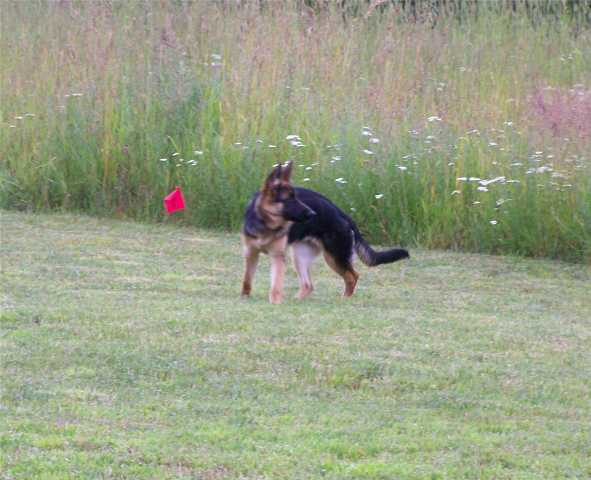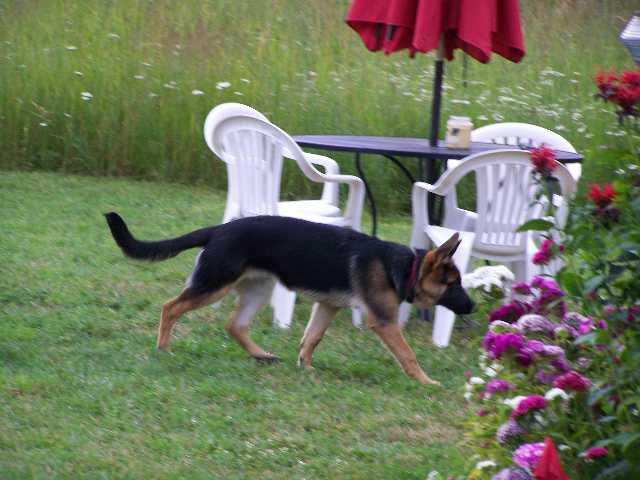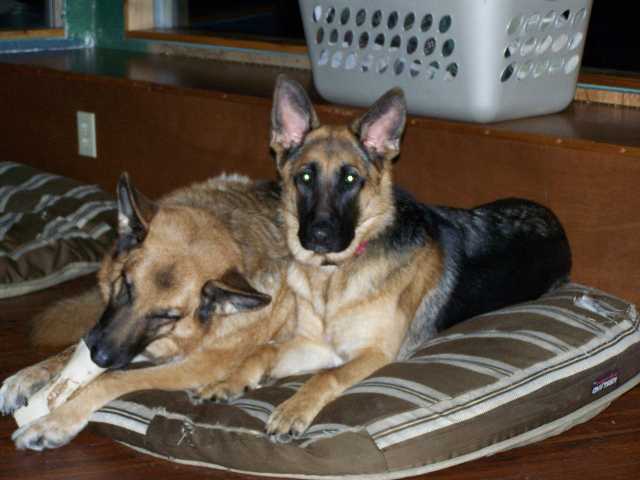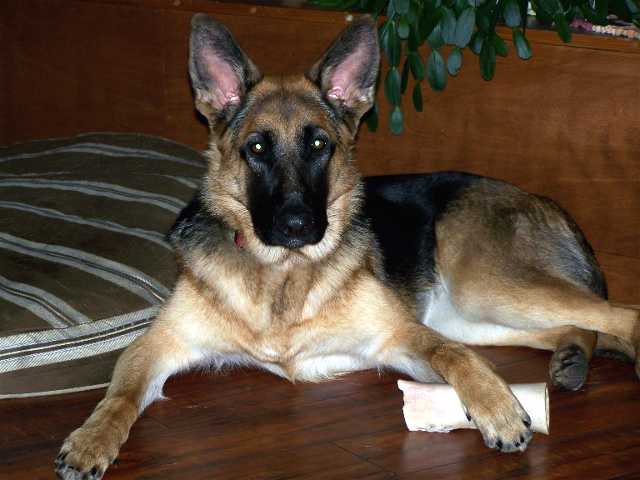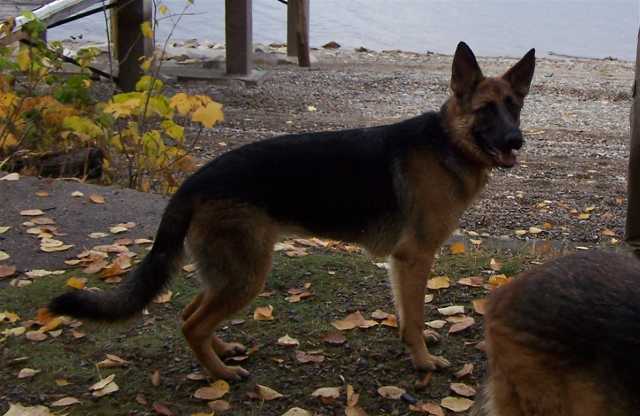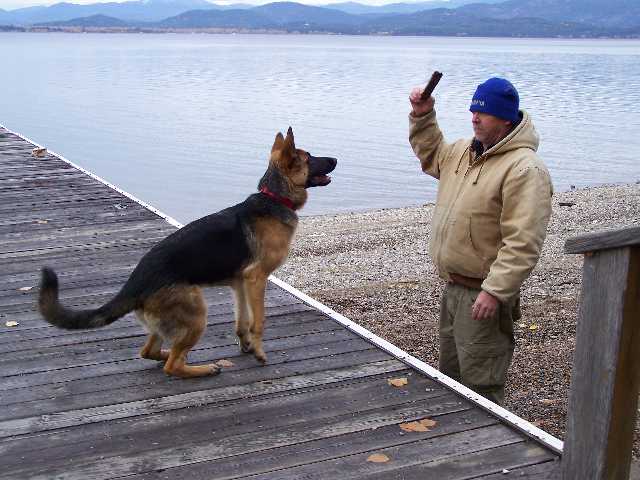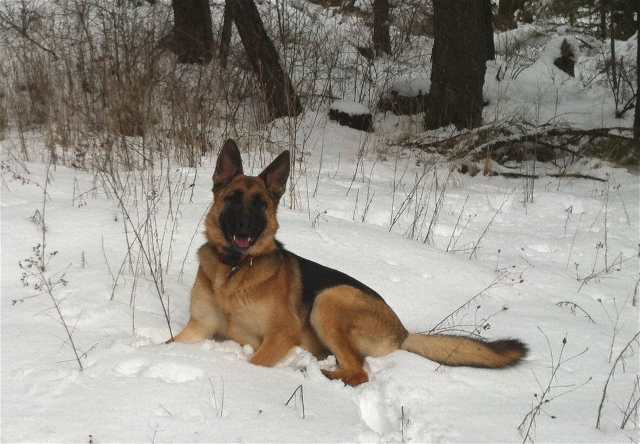 Lime collar puppy! New call name Cody!Misty and Cody are now best buddies.
The kids named the pup Cody. Cody has met Misty. Misty is somewhat "afraid" of him and not sure what to think. We think misty will take to him quickly. She is very good with other animals.
Cody has not met the goats yet--probably today. As for one of the cats (Leonard), they are already friends. Leonard never hissed at Cody and let Cody smell him to get acquainted.
Cody had a good night. He slept all night long and is now playing with the kids.
Thanks again for such a wonderful puppy.
Nancy
Click the thumbnails below to enlarge pictures.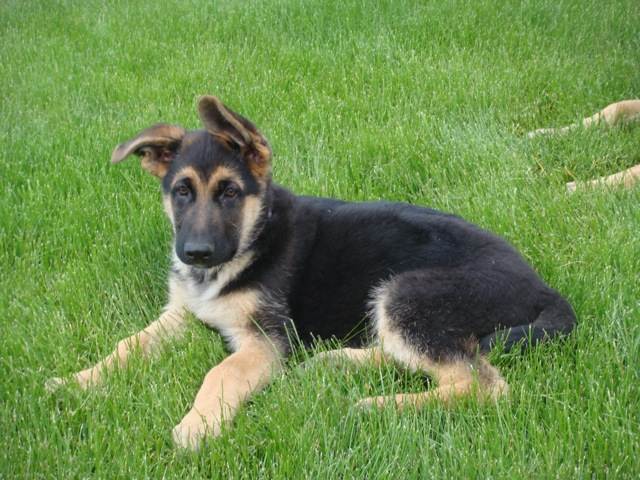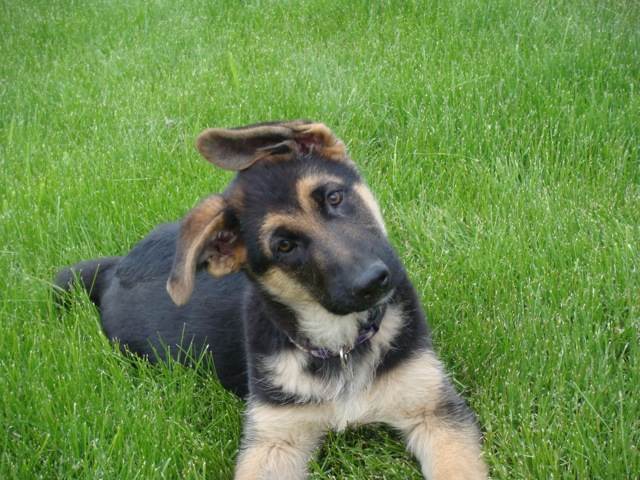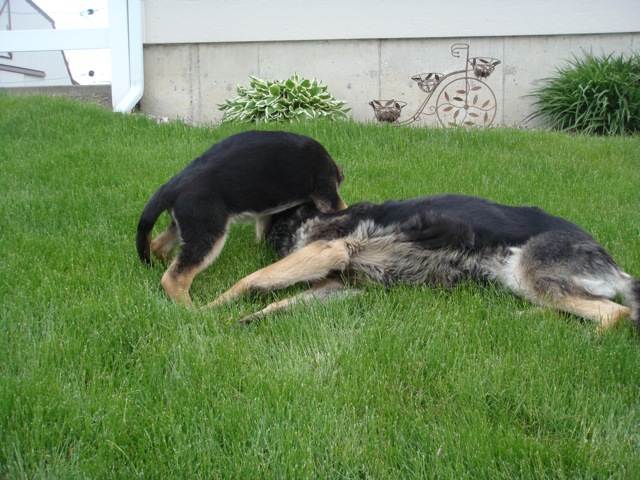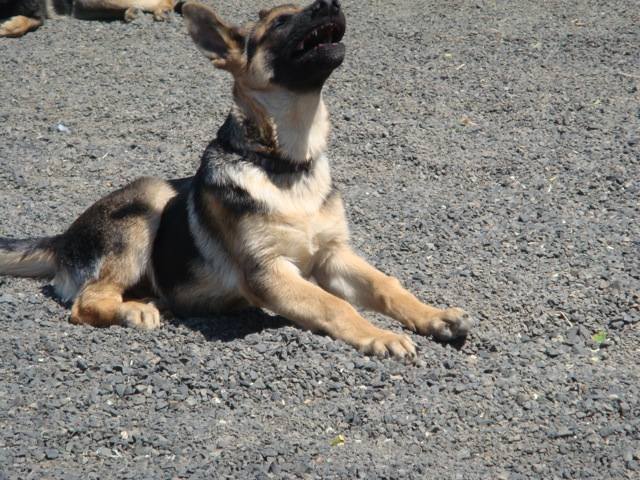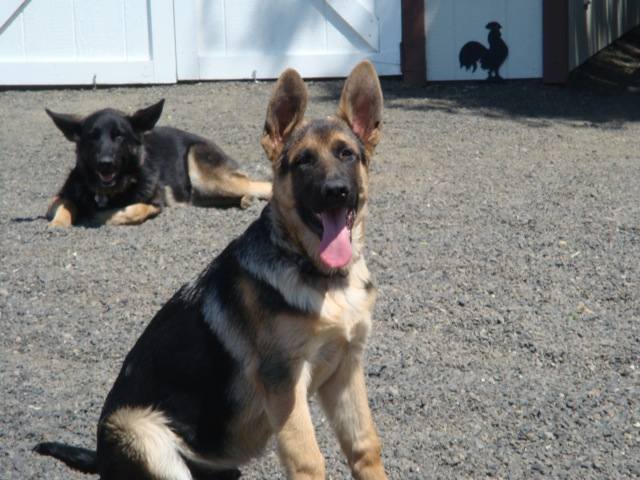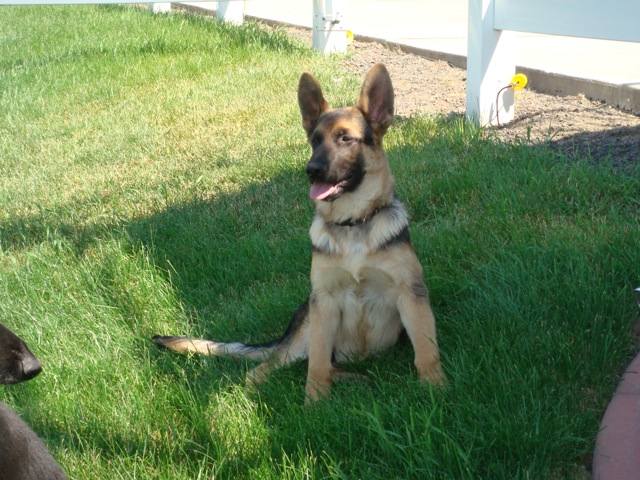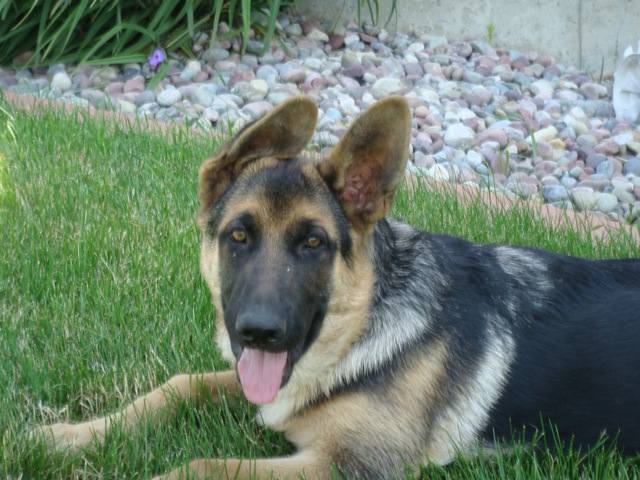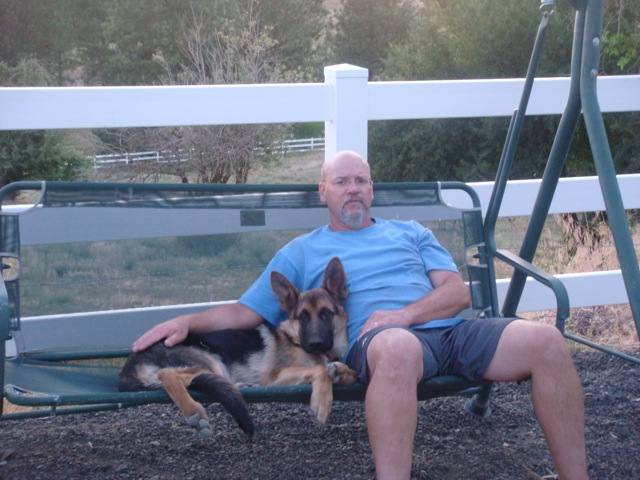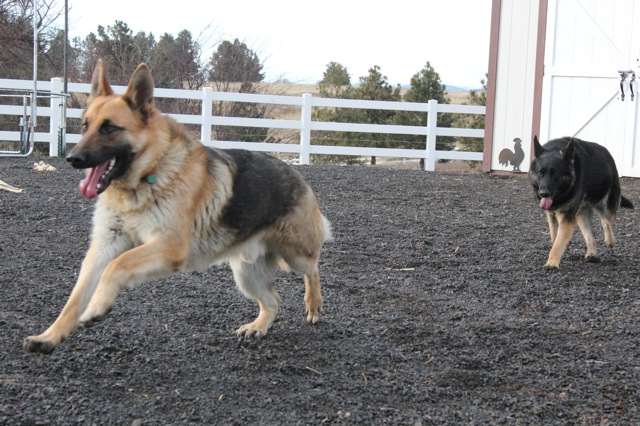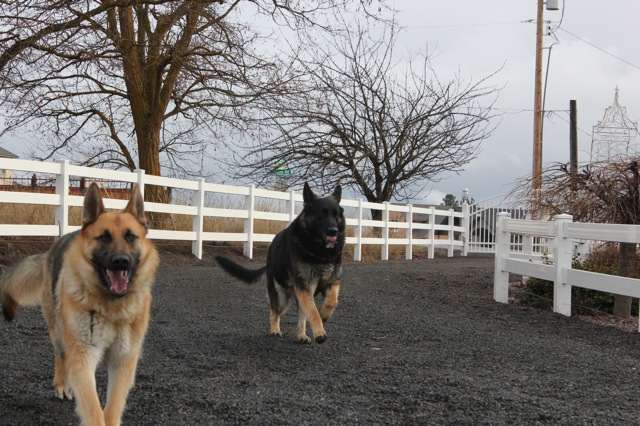 Purple collar puppy! New call name Jack!
Nancy, he is so wonderful!!! Turns out when heís not surrounded by other puppies he is a pretty mellow little guy. He follows me everywhere and spends a lot of time laying at my feet. I took him to a BBQ on Sat. and he was not stressed out at all. People kept telling me what an amazing pup he was J And I took him to work with me yesterday and he was an angel, just layed on his blanket with his chew toys and was sooo good! And hardly any accidents in the house either, I am so impressed! He gets along great with my other dog too. I will try to get pics to you soon and will call either today or tomorrow and give you more details.
Thanks so much Nancy,
Kelly
Hi Nancy! Iím so sorry Iíve been so bad about staying in touch. Jack (thatís his new name, simple and strong!) is absolutely awesome! Iím having trouble getting pictures downloaded onto the computer right now, but Iíll send some as soon as I can. He is so good and so smart sometimes I canít even believe it. He follows me EVERYWHERE, even if I just walk into the kitchen for 30 seconds he comes and lays at my feet. He lays on the bathmat while I shower, follows me around the yard while I garden and sleeps on my bed. I adore him. It didnít take much to get him potty trained, I can let him outside and he never leaves the yard, much less the property. He still likes to chew a little bit but that is to be expected with a puppy. He gets along great with the kids and with our lab too. He can sit, and stay, and we are working on being on a leash which he doesnít really seem to mind at all.
Hopefully I will be able to send pics soon, he is absolutely beautiful and he is getting sooo big! And his ears stand straight up all of the time and they are so big and adorable!
Iíll write again soon,

Kelly
Click the thumbnails below to enlarge pictures.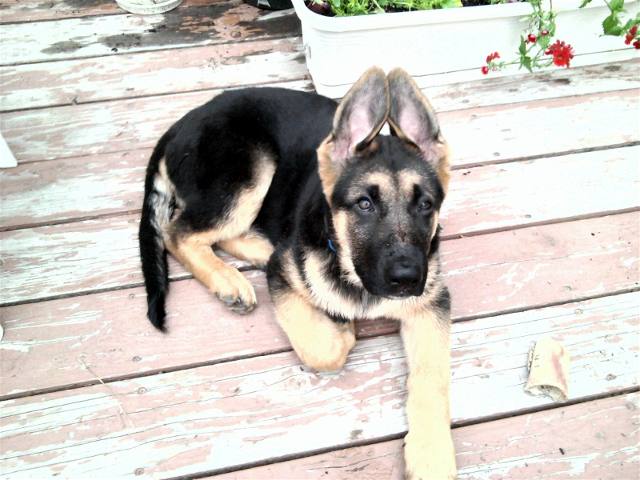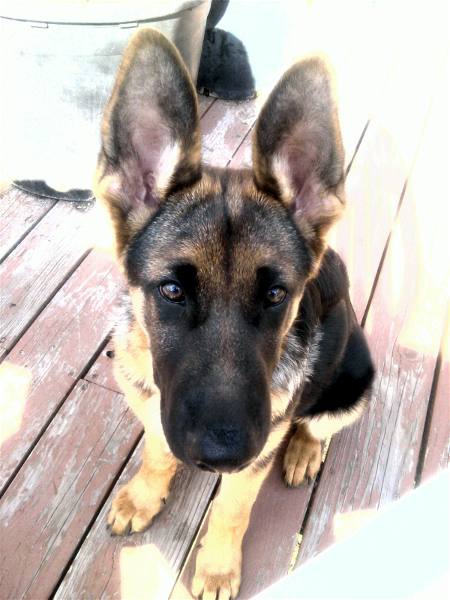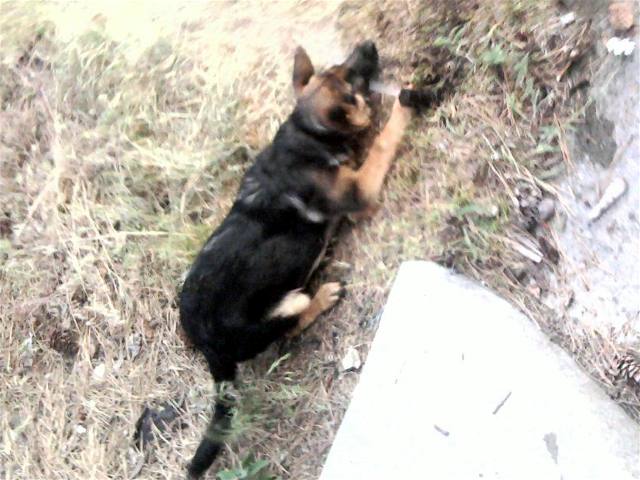 2010 ~ Below are 2 pups from a 2010 breeding between Ivan and an outside female Zena!
Michael purchased Scout from me, as my stud fee for this breeding was a puppy!
THANK YOU! Scout is a fun loving curious pup, so far he is on his way to being potty trained, only had one accident this morning when i wasn't quick enough to take him outside. I've tried to take some pictures of him myself but he won't leave my side!!!! right now he's sleeping on my boot LOL, yesterday he discovered his new den, and last night slept in it (sort of) so i slept on the floor right next to him. I had to take the licker water bottle off because he wouldn't stop drinking it at 3am. but I take him to his kennel when he looks sleepy and leave him in there for about 30 minutes and he actually seems to enjoy the peace and quiet. I made an appointment for the vet, but the only time they had available is monday. But so far so good, he has learned to walk up our stairs (i follow him just in case, but i don't let him go down quite yet). Anyway I attatched some pictures, and i signed the paperwork and will have it sent by tomorrow.
Another email, I asked if he liked to play tug!
He LOVES to play tug... unfortunately its usually my pant legs or my robe sleeves so i give him something else to play with... which usually lasts about 3 seconds before going to my pant legs again LOL... but at that point i just start a little training like sit, lay down, back to sit from laying down (harder then i thought to teach)... stay is still come and go... last night i got about 15 feet just holding my hand out for stop, but also i have only been training him for 3 days now, the time before i was just letting him be a pup and playing and sleeping.. He has his moments, during the morning and a couple hours before bed he is a cracked out pup, but in between he is extremely laid back and just loves attention (except when you tickle his whiskers on his beauty marks LOL).. he also LOVES big basketball sized balls... like the ones you find at kmart, but he has already popped 3 of those and a basketball... dang sharp teeth... gonna go to petco and see if i can find a nice kick ball that will be a little harder for his teeth to sink into, he just loves running back and forth chasing after the ball i kick. Mike
Click the thumbnails below to enlarge pictures.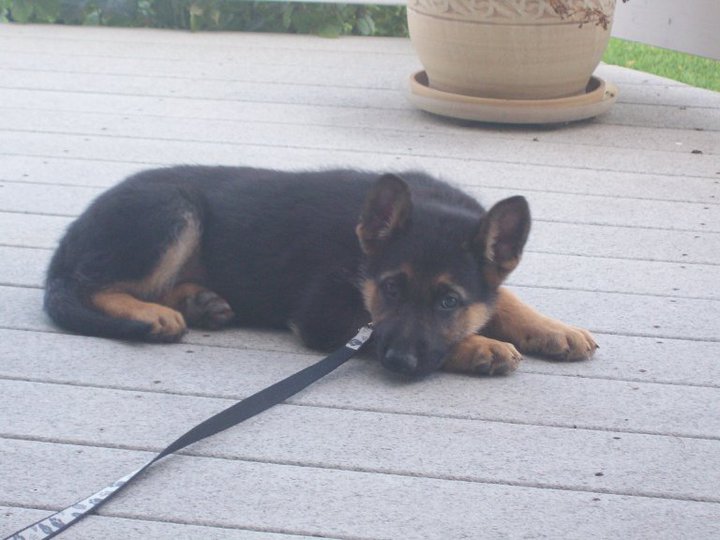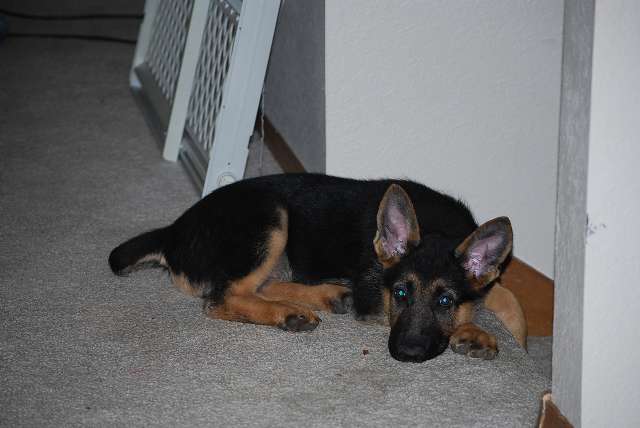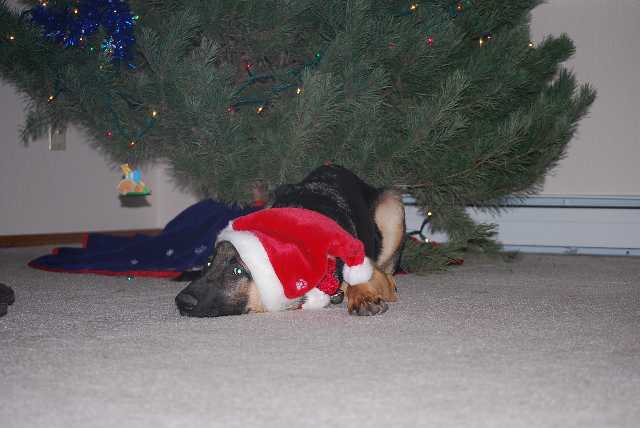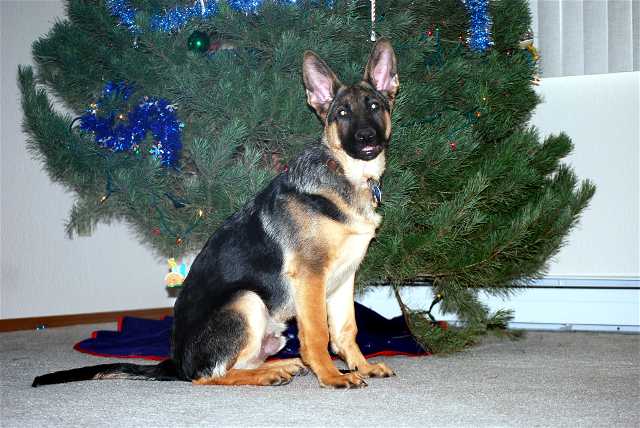 This is s short video of Scout at approximately 5.5 months playing with a "friend".CLICK HERE!
Scout at almost one year of age below.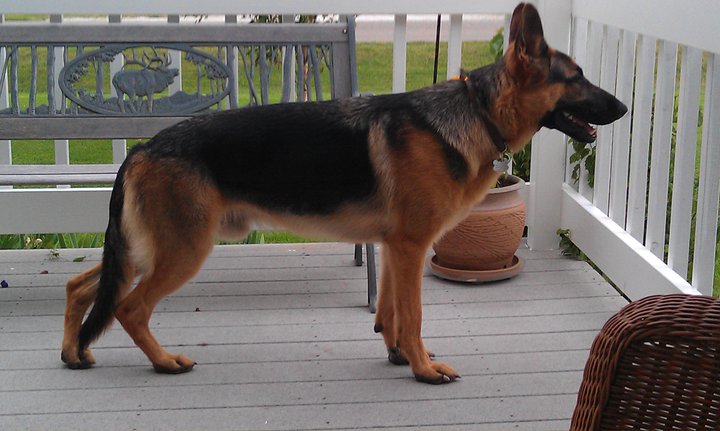 Jerry had contacted me for a puppy. I referred him to Ivan and Zena's litter as I did not have pups at the time!This is what he had to say about Maggie and a picture he sent of her at about 6 months of age.
Hello all,
We took Maggie in at 6 monthís for rabies shot and to see the vet for check up all was good and she is 23 inches tall at shoulder and 53 pounds.
She really likes her new home and all the attention she gets, still likes me the best talks to the wife when we hug or hold hands on our walks. She gets about 4 miles of walking a day plus play time and just running through the trees. She is a house dog all the time and sleeps at the foot of our bed and is very proactive of her pack here. Does great on being obedient and loose leash walking if she has to be on the leash. Just letting you know how she is doing. Jerry and Shari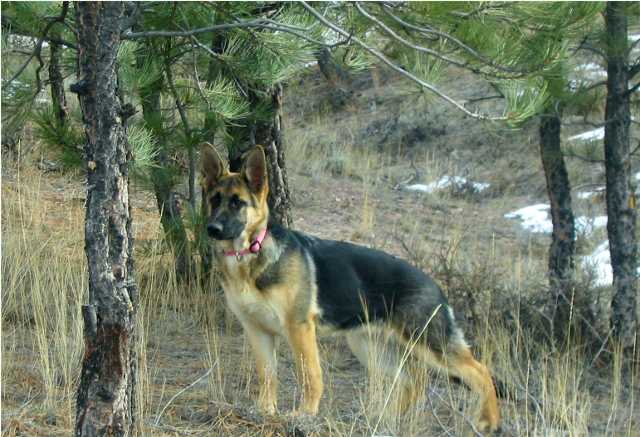 2007 ~ Below are pups from Wache v Bullinger CGC, OFA and Big Sky's Tiva OFA
Matt and Annie have adopted my pick sable male pup and they have named him Sacha.I just recieved these pics and email from them, Sacha is almost 9 months of age in the pics!
Hi Nancy,
This is Matt and Annie. We are both in Wisconsin visiting family for a while. I managed to get some pictures of Sacha with Casey. Casey is my dads dog that he adopted two years ago. I fostered Casey for a year before pa adopted him. Sacha and him are like two peas on a pod! Casey is about 9 or 10. Sacha has been doing excellent. I have had him cross country in our jeep. He has been on the banks of all the blue ribbon trout streams in Montana and some mountain lakes as well. I have even trained him to ride in the drift boat when I float the rivers! Casey and him have been out swimming in the river behind my dads house and joining us for long nights by the bonfire. Sacha is truly a blessing. Here are some pictures of him. Ill try to get some better ones for you soon. Hes got it good! .
Matt
(Second email, I asked about his color being more red last time I had seen him, and if they were just visiting)
Were just visiting for a bit. Im going to be guiding in Alaska for three months and annie will be staying here with family till I get back. I miss Montana already! Sacha is alot more red than the pics show. Its funny how he looks gold in some of them...he sure is a handsome boy though! He knows it too, hes always "prancing" around. His real color is more like that pic where he is laying down looking over his shoulder. He is really good with other dogs. I used to take him to missoula and walk him through the shopping centers and by petsmart so he would be well socialized. Ive had him around everything from yip yip dogs to pitbulls and he is always great! Everybody loves him. Thanks so much Nancy! He is my boy.....
Matt

Click the thumbnails below to enlarge pictures.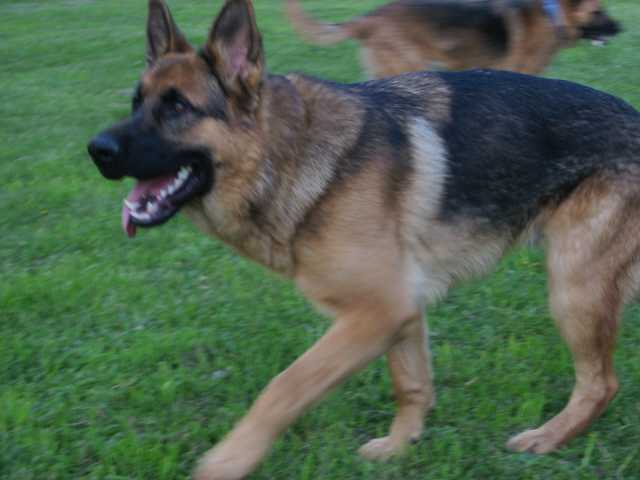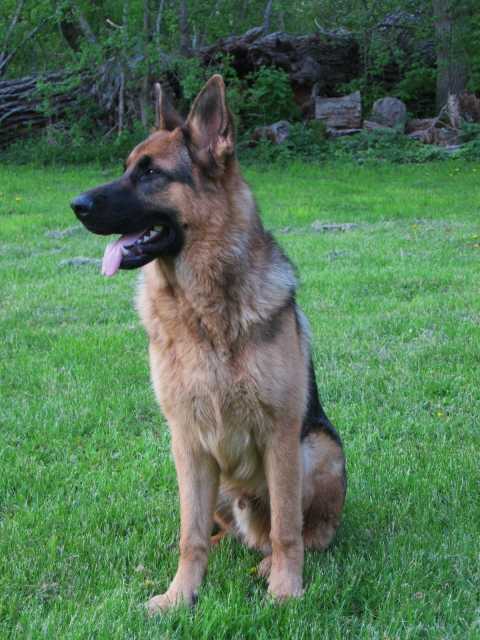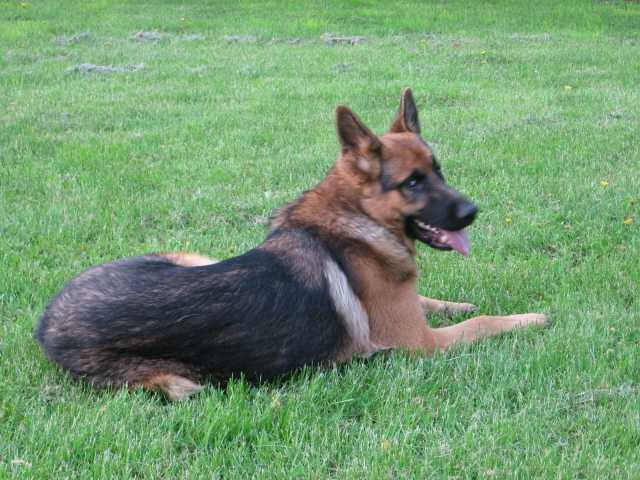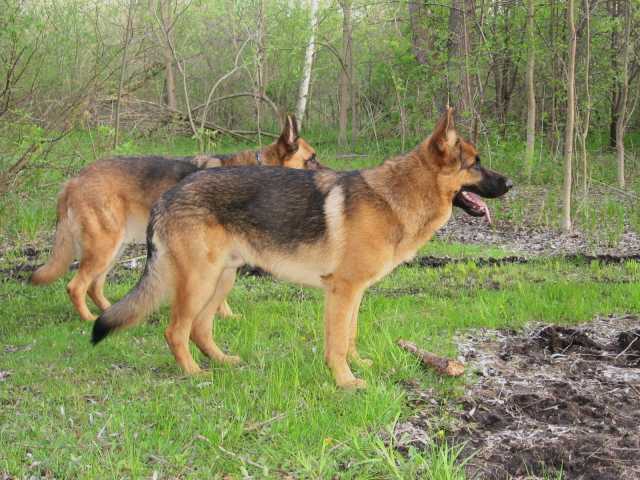 Cody and Irene have adopted a beautiful sable male pup and they have named him Tucker. Here is what they have to say about Tucker!
Nancy,
Here are some pictures of Tucker. He's getting so big - tipped the scale at 32 pounds today. He's such a hoot! We've worked hard to socialize him & its paid off - he loves other dogs and people!
Merry Christmas I'll send more photos as he grows.
Irene (Belgrade, Montana)


Nancy,
Tucker is doing well. He's almost 60 pounds!! I've started doing some travel nursing, so we're living in Arizona for 3 months. We went hiking today and Tucker took his first swim. He was unsure at first, but really loved it! The weather is beautiful here, so we spend a lot of time outside. Everyday multiple people stop and say how beautiful he is. He continues to have a wonderful temperment. The more attention from people and other dogs, the better.
I've attached a couple pictures. Let me know if you aren't able to open them and I'll try to send them again.
Irene

Click the thumbnails below to enlarge pictures.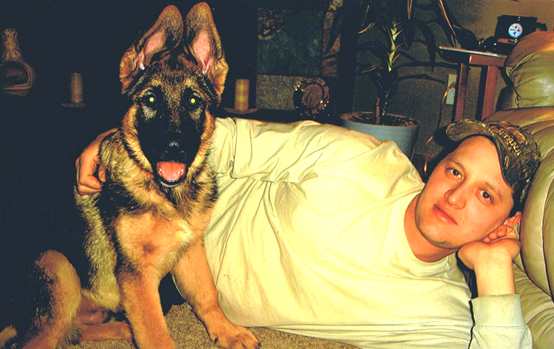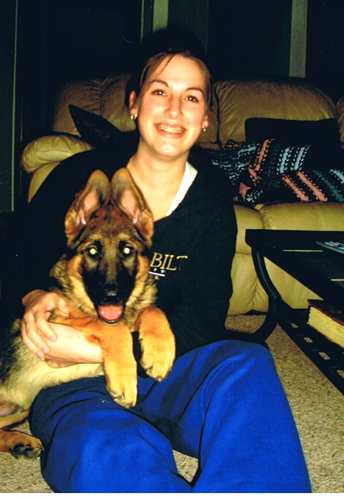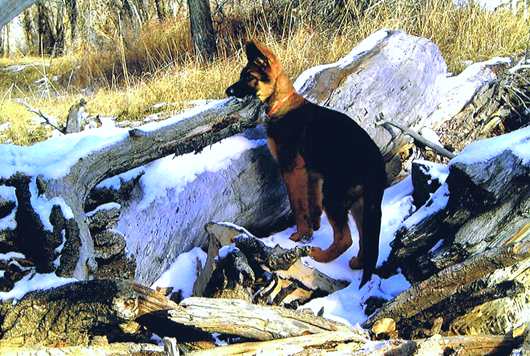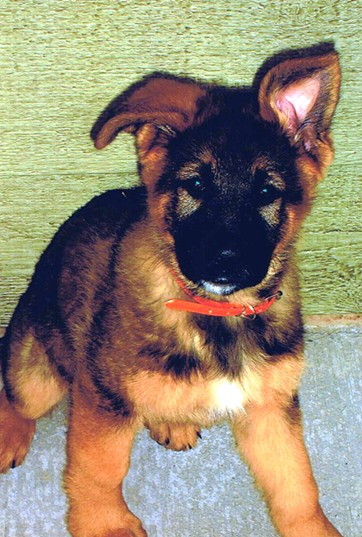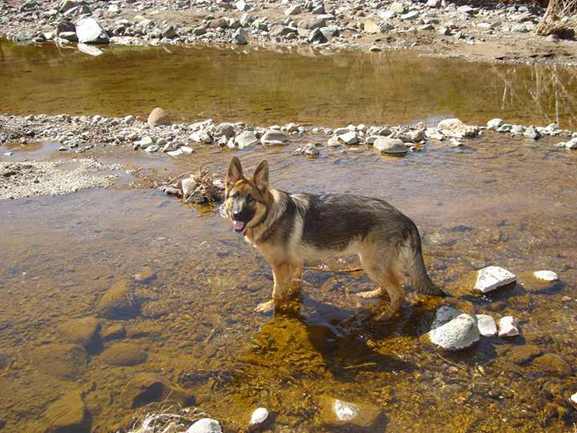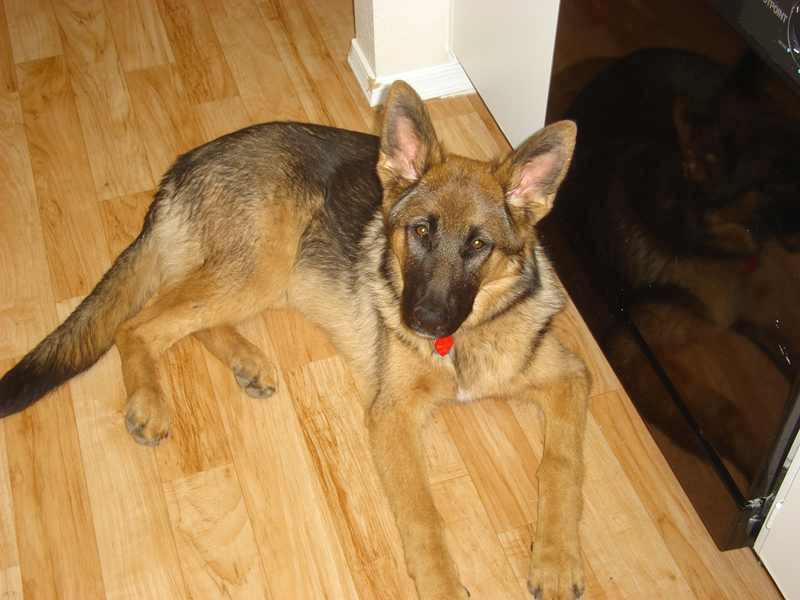 The Morgans adopted my last little boy from the 2007 litter. They have named him Jaeger. Here is what they have to say about Jaeger.
Nancy,
Jaeger is a very happy boy. He is so clumsy as he is growing so fast! He loves the kids and the poodle.He licks the kids and they laugh and laugh so he does it some more. He did well his first two nights with no whining or anything.
You are welcome for the pic! I have more just need to download them to my computer! He is so funny with the poodle. Everyone thinks they are just hilarious. His ears are up and he is beautiful. He is still working on the potty training but is pretty good most of the time. He is just a blessing with the kids! I can't tell you enough how much we love him! Talk to you soon! The Morgans (Helena,Montana)


Nancy,
I got your messege. Jaeger is doing really well. He is getting big. He is finally doing better with the house training. He is about 50 pounds and has the nicest personality. He is wonderful with the kids as well. I have attached several pictures of him. He doesn't like to hold still while we take them though. Are you still thinking about breeding him? Well I'll talk to you soon. Jen


Click the thumbnails below to enlarge pictures.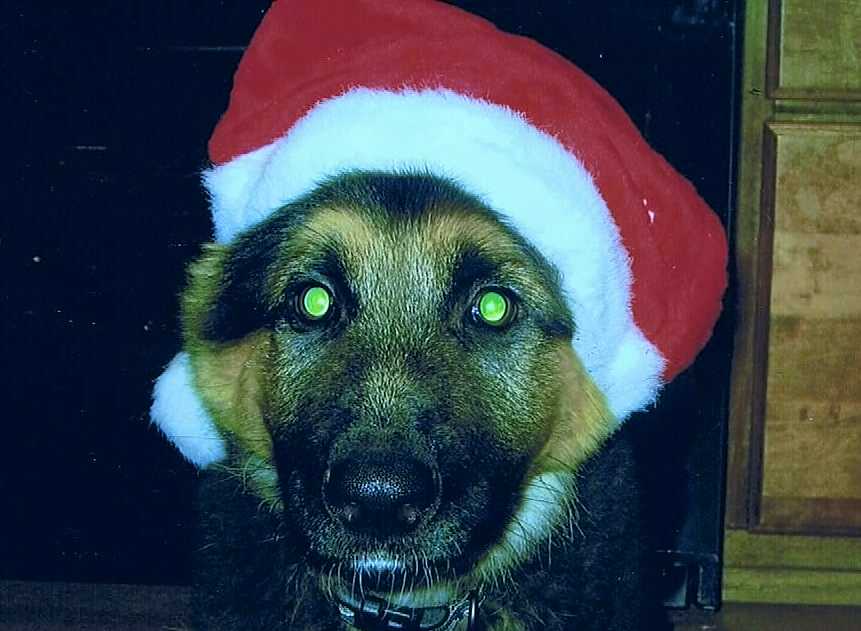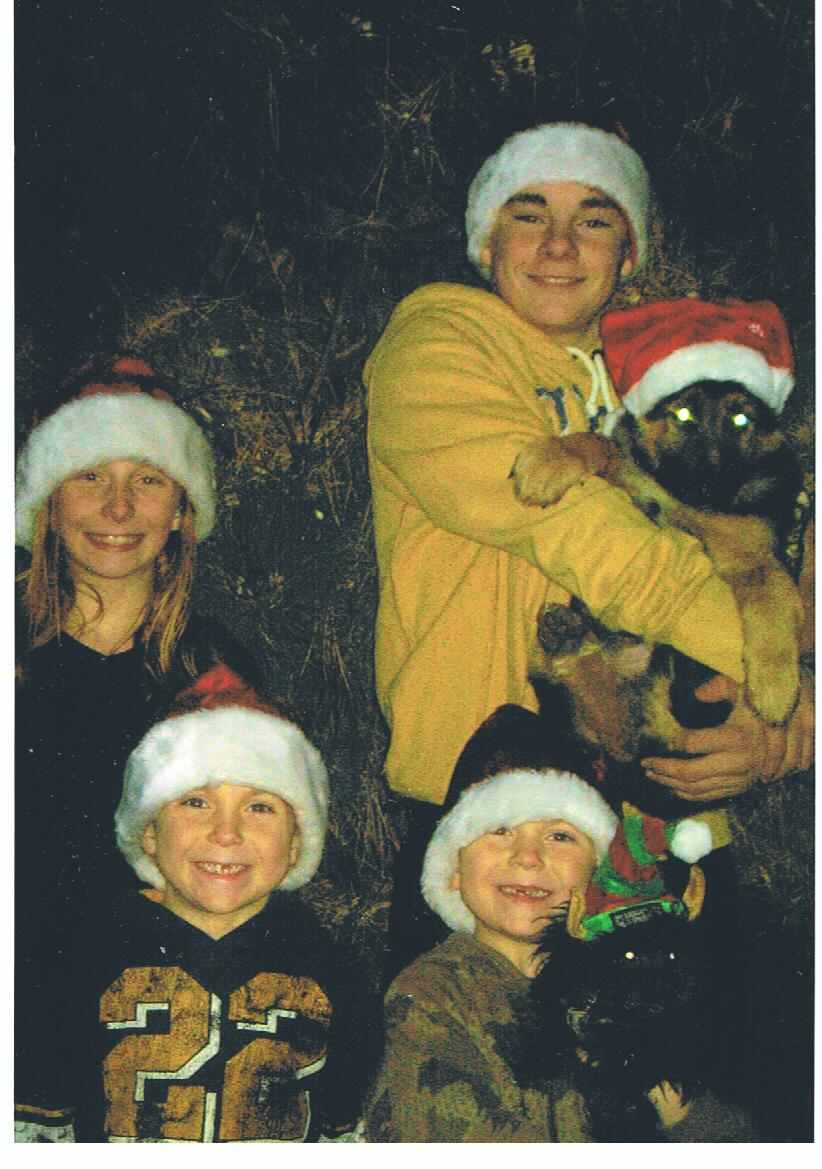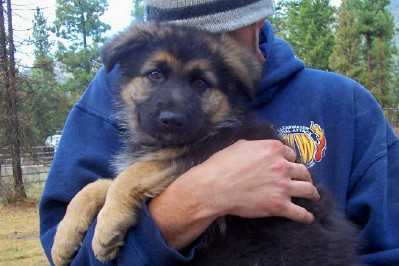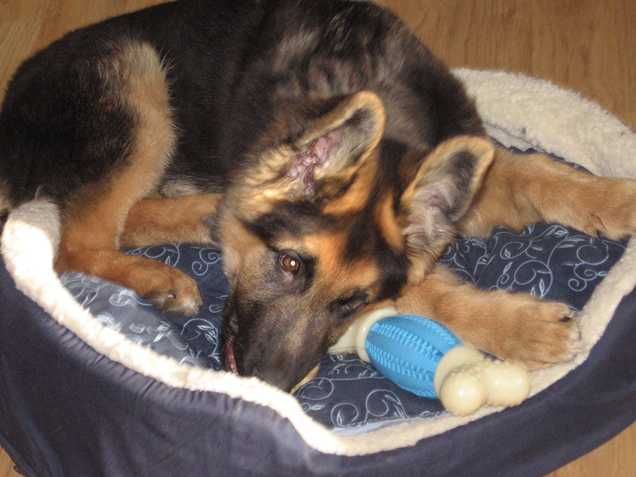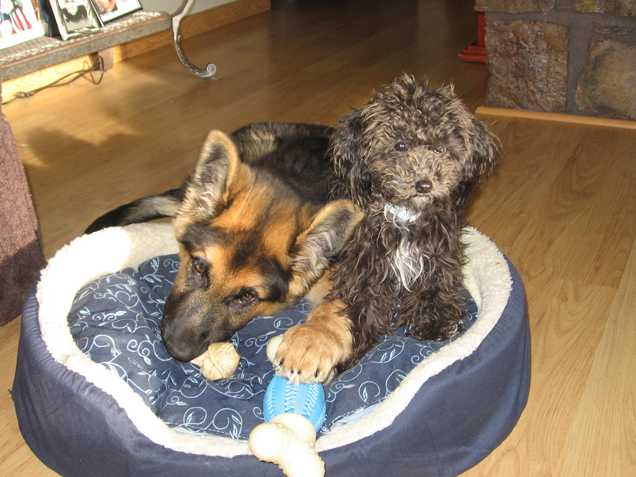 Jaeger 6 months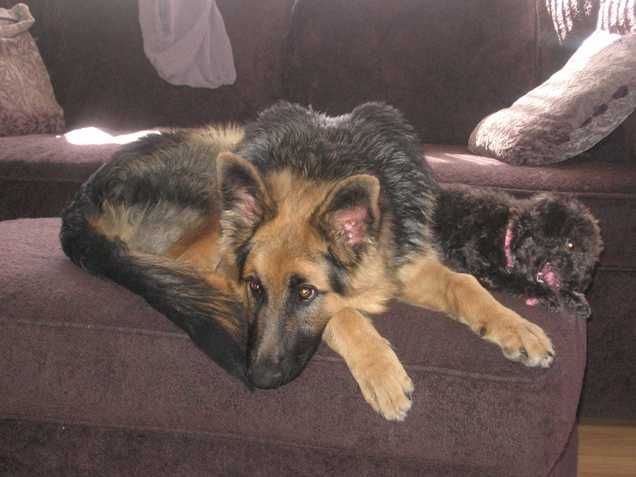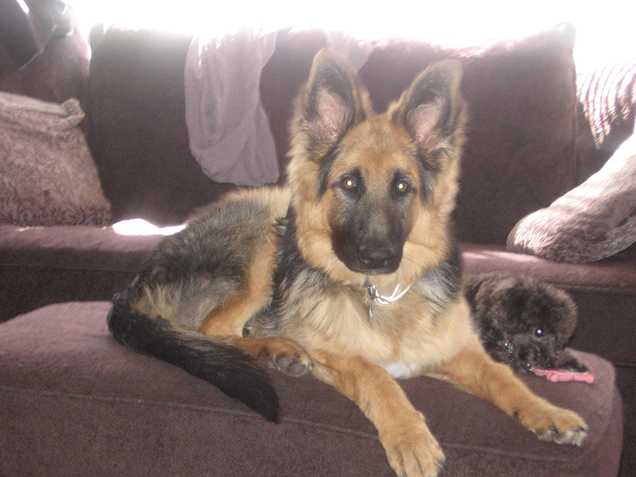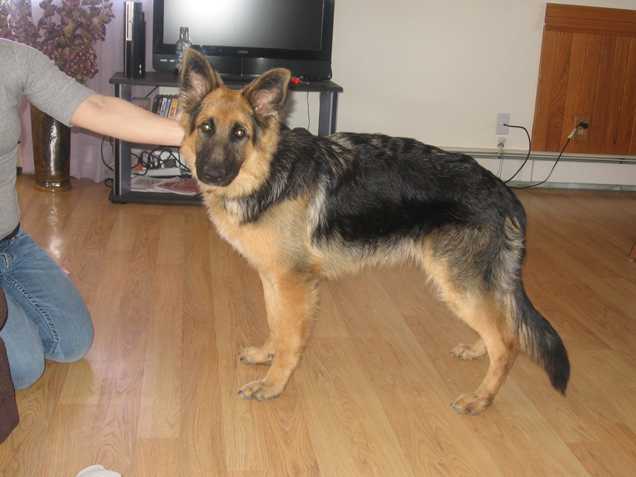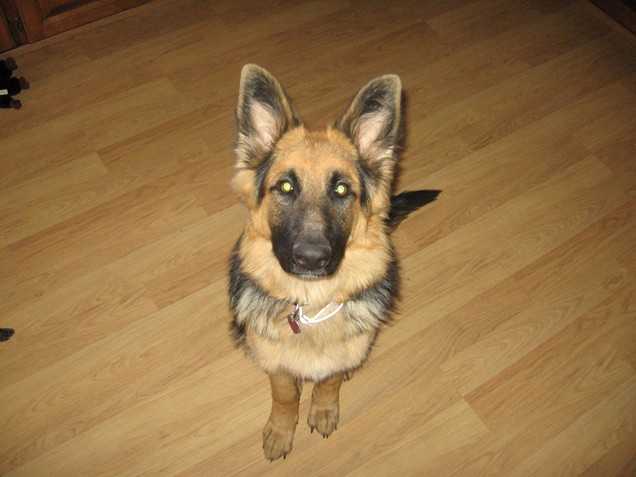 Jaeger grown up!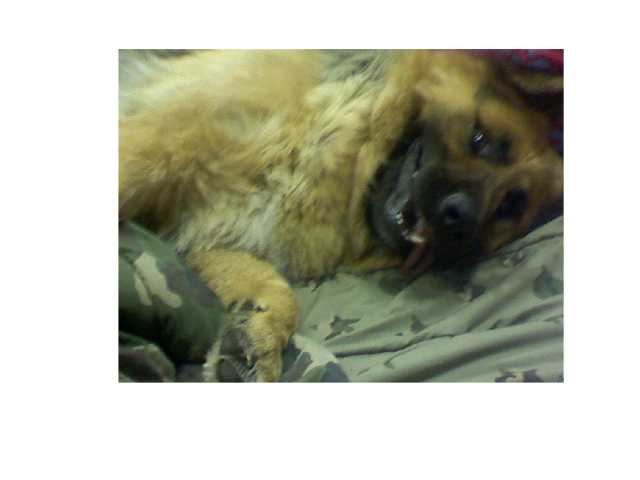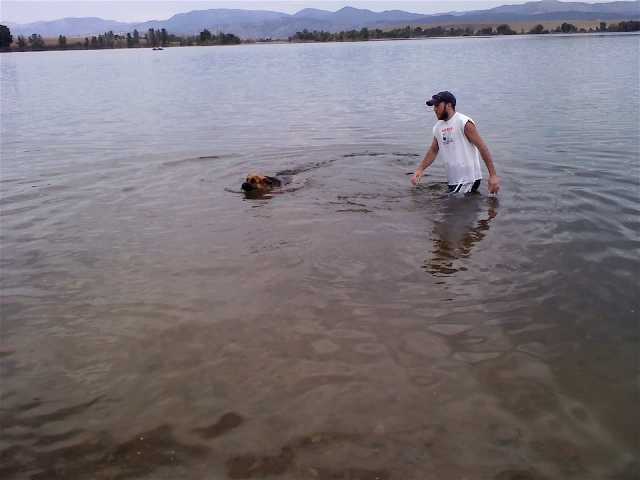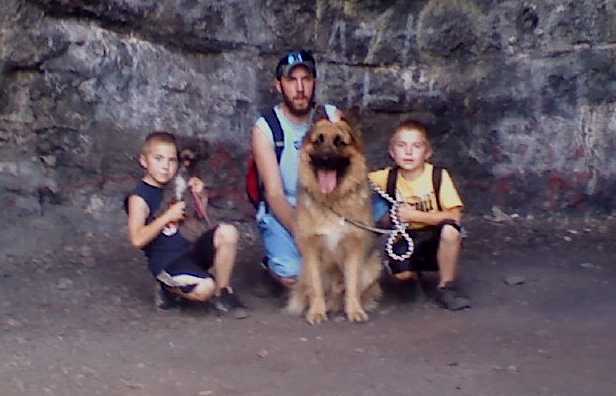 David adopted my pink collar puppy from the 2007 litter and named her Terra. David lived in Phillipsburg Montana at the time of the purchase. He has since moved back to Texas with Terra. Below are a couple pics of Terra in Phillipsburg and David has promised to send more as she grows. Here is his last email about Terra.
Nancy,
Merry Christmas!! This is David ********** just writing to say "Hi" and give you an update on Terra. (Pictures will forthcoming sometime after Christmas). Well, first off Terra is doing wonderfully, she seems healthy, happy, and "hoppy". I just moved back to Texas (got in earlier this morning), I had initially planned to stay in Montana for longer but I found it necessary to return to Texas to speed up the process of completing my Masters Degree. The trip was pretty quick and Terra settled into the travel routine with no trouble at all (we made frequent stops for 30 minute play breaks). We will be living on 15 Acres in the Texas Hill County in Old Family House. As always Terra's continued good health is always on my mind. Here in Texas Fleas, Ticks, and Heartworms (the Vet in Philipsburg said that in the 20 years he had been there no one had any problems with them there) are a concern and I am looking into the best way to protect Terra against them. No local Vets are open today or tomorrow, but I will be visiting one on Wednesday, I will have to decide which preventatives to use and was wondering if you had any advice to offer on the subject. I know the main Flea and Tick preventatives are the little drops that are placed on the skin once a month and the once monthly heartworm pills. I wanted to check with you to make sure these are good options and if not what the alternatives are. I am just about to start introducing the Large Breed puppy Eagle Holistic Select into her diet and should have her switched over to it in a little over a week. Terra seems very very happy here, and all of my relatives in the area love her almost as much as I do(No one could ever love her much as I do). She has been a constant source of joy in my life ever since I first met her, and words cannot express how much she has and continues to mean to me. Have a merry Christmas.



David sent new pics of Terra along with this nice email about her!
Merry Christmas it is so good to hear from you. I haven't kept in as close of touch as I have meant to but I thought I should let you know that Terra is still with me in Texas and is thriving after a full year here. This is the first Christmas in ages that I actually got toys for Christmas (anyone who didn't know for sure what to get me just got me dog toys since they knew I would enjoy them).
Terra is all the way grown up now and is doing very well. I switched her over to Wellness Core a grainless dog food when she got a little over a year old and she seems to be doing well on it. We have 15 acres in to wilderness in the hill country on the frio river that we go up to most weekends we she can run around and play a bit more easily than in town (we even go swimming in the spring). I halted training her in air scenting last spring there are just too many snakes around for me to really feel comfortable letting her work a whole field like that (had a couple of close calls with non-venonous snakes that she wanted to play with), I don't really have time to fully do search and rescue work (I am working as a financial analyst at a bank now, but both my parents teach at a local college with varied scheduales so she gets to spend the middle of the day with whichever one of them is home at the moment) but I wanted to let her keep doing some scent training so I started teaching her tracking which she is getting very good at. She has a huge vocabulary and is amazing at being able communicate I can think of tones of stories but basically she is amazingly good at telling what is going on with people and letting people know what she is thinking (she can always tell when we are about to head out and where we are going, she will paw the door or food/water bowls whenever she wants a refill (or if heaven forbid I am a little late giving her, her evening meal). She weights 68 pounds now and I think she is just about as big as she is going to get. I have a year round pass to all the state/national parks in texas and we go hiking most weekends (Garner State Park and Lost Maples are both within easy driving distance and good hiking trails) and Terra loves going with me on them (I was a little worried about over working her and typically go on 10+ mile hikes so I hadn't been hiking as often till about a month ago when the vet told me she was more than ready for that type of activity). She is a bit of a junkie when it comes to fetch (she has a couple of rope toys we through, a few soft frisbee's, and of course the ubiquitous sticks) and tug (she broke the first rope tug toy we got by pulling so hard that she snapped the handle we were supposed to hold onto so we got another one that was a bit more heavy duty) but she is very good about switching gears and calming down when we say "game over" and put the toys up. Overall she is very well behaved she is very friendly with all people and very gentle when playing with kids, she doesn't beg for food (although she does notice it), and she is generally pretty quiet, but she will bark when she thinks she sees something important and wants you to notice (like someone walking through the yard or coming up to the door). She does get a little over excited when we have visitors (she generally will try to rush people circle the and hop and dance around while making some sort mumble like happy noise, I generally keep her on a leash until she has a minute to calm down when we have visitors). We have some neighbors with three dogs that she gets to play with a pretty good bit, whenever we go for a walk we generally have to start off so that we pass their house last because she tends to try to plant herself in their yard (intent to wait for them to come out and play regardless of rather they are even there at the moment or not).
This summer I had a few friends from college over who now have kids. The kids had a great time playing with and she loved it too, she would always alert me or their parent whenever they broke any rules (such as getting into books which she isn't allowed to do since she will chew them up) and pretty quickly learned which rules applied to them and which ones didn't (she caught on real quick that even though she isn't allowed to play with books the kids are). At one point we were all playing in the river and one of their little girls took off towards some rapids further down the river and didn't respond when her parents called her back (either she couldn't hear over the water or was too focused on something else) Terra caught on that something was wrong and gave me this look (this particular look meant there is something I really want to do but I need your permission first) so I said ok and she took off after the little girl and got in front of her, Aryn (the little girl) then tried to push her out of the way so Terra nipped her nose (didn't even leave a red mark but appearently hurt enough to get her attention) and then herded her back towards us.
I have really had a wonderful time with Terra she is always upbeat and happy and energetic which really helps me out when I don't feel the same way. I really can't thank you enough for giving me the chance to take care of her and for breeding such a wonderful do to begin with.
On a side note how is her brother doing (the one you though might be long coated) and her Uncle Ivan, Mother Tiva, and family friend Xtra (she was the one you brought over from Germany right?)
Merry Christmas and Happy New Years.


Click the thumbnails below to enlarge pictures.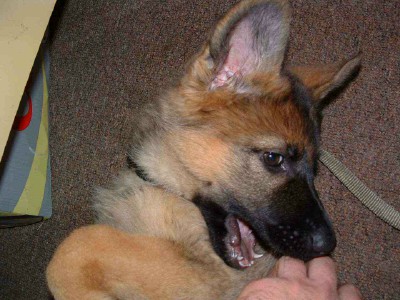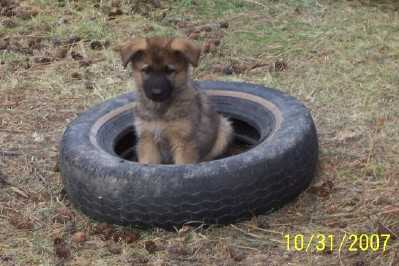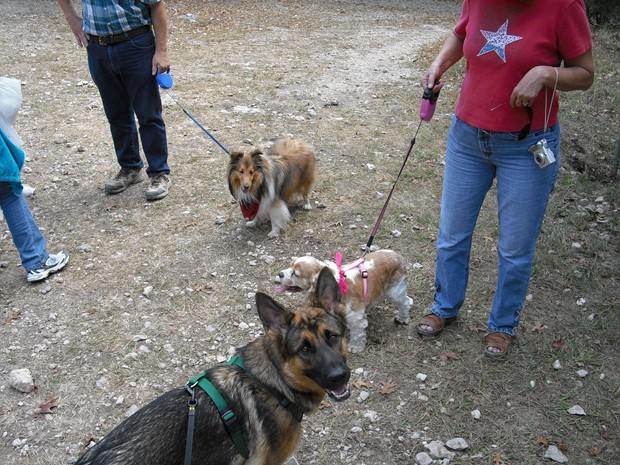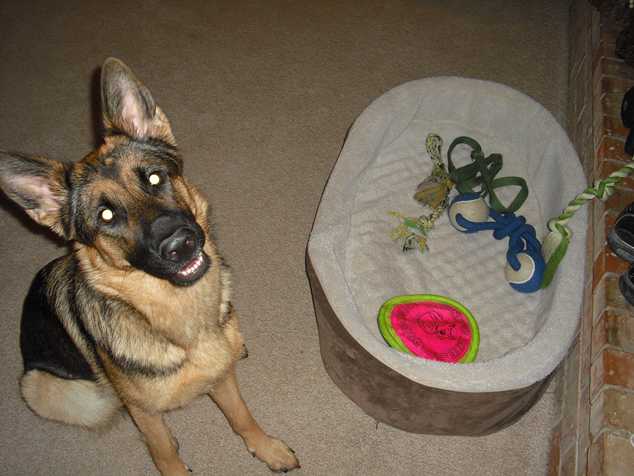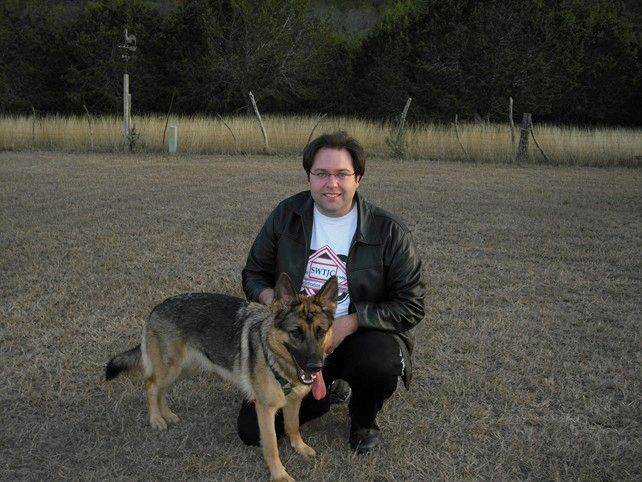 Kate has adopted my white collar female and named her August, call name Augie! Below is an update on Augie.
Hi there Nancy,
I'm sorry that I didn't send along any Christmas photos but I don't have any on paper. they are all digital; and I don't have anyone to hold her so the pics are all just action shots ...mostly of the back of her head. She has had all her shots and is a healthy and incredibly spoiled little girl. She loves to shower with me every day and I often find napping in the tub? Strange little one. She and my Lab Casey are the best of pals, even if Casey gets sick of it after a while. Now that she has her shots we are starting socialization with strange dogs in the parks. She is a little unsure but if Casey is there she will bark from underneath Casey's front legs. She knows "come', Augie", 'uhh-uhh', 'sit' and 'pottey'. We're still working on 'off' although I think she knows she just is stubborn. You should know that Dr. Sandy ***** spoke very highly of you at the vets and thinks Auggie is a great little girl that will be about 70 lbs. She's about 35 lbs now. I sent along a few pics and I know these just don't do her justice but they'll have to do until you come through Missoula next. I hope you had a safe and happy holidays with your dogs. We were all very snug and content here. Thanks again, Kate (Missoula, Montana)



Kate contacted me around the second week in November 2008. She had brought Augie in to our vet,Sandy, for an eye infection. Sandy had diagnosed her with PPM, a sometimes genetic condition. I was devasted and contacted Sandy to "pick her brain". Sandy said she was unsure if it truly was PPM because the spots on Augies eyes were brown and not white, there was also no threading between the spots. She had contacted an Optomologist about it and when she got back to me I was much relieved. It sounds to be a common occurance known as pigment transfer. If possible in June (2009) when the Optomologist comes to our area I am hoping Augie and Kate can see him to confirm.

Hi there Nancy, I'm so glad you feel better about all this. I hated for you to worry about someone that is such a pure joy to me. (and is so very happy herself) If you want her to see the specialist, that is fine as long as it is not invasive. I work Mondays thru Thursadays from 6am to 6:30 pm, so I'm sorry I haven't returned emails or phone calls for a while...I have to work this Fri also....So you might have to give me a few days warning so I'm sure to be in Missoula. Augie and I climb mountains all around western Mt. during the week so we're kinda tired on our days off...
Please do call and come meet her again. Everone she meets goes on and on about want a beautiful dog she is, and how cute. She reminds me of a fox sometimes when she curls up in the woods while I'm working, if shes not chasing grouse and chipmunks.
I am very glad you spoke to Sandy and have a better idea of what is going on, since Augie is fixed, and ppm is not progressive I am not very concerned about it. But I completely understand your interest in your offspring. She is a bundle of joy in constant motion with a hysterical personality. I can't wait to see the pups from your latest breeding. The old pics make me think of how cute she was but I don't really miss it too much....She is finally starting to calm down a little. Although, another pup would be even more laughter...
Hope all is well and we'll talk soon.
Kate
ps The one time we have encountered wolves in the woods (which my heart stopped in fear for Augie) she tried to run up to them, tail wagging and trying to play. I pulled her back in time but boy....she loves other dogs and dog-like friends. I may have over socialized her.


Click the thumbnails below to enlarge pictures.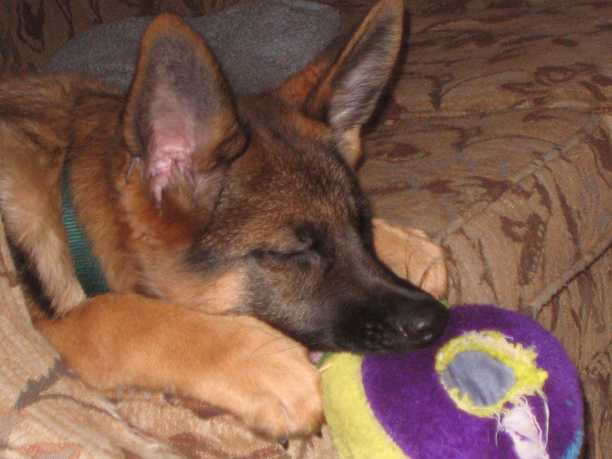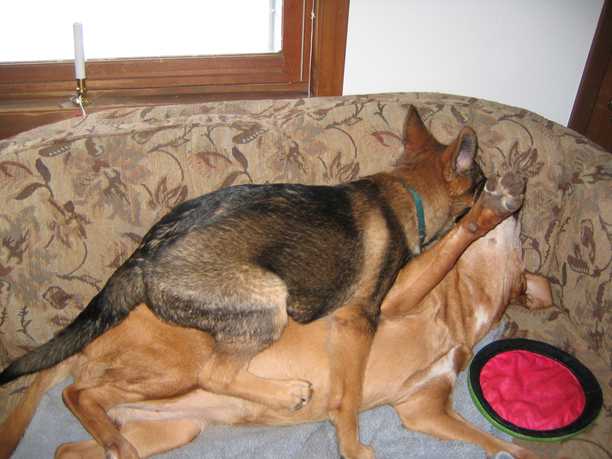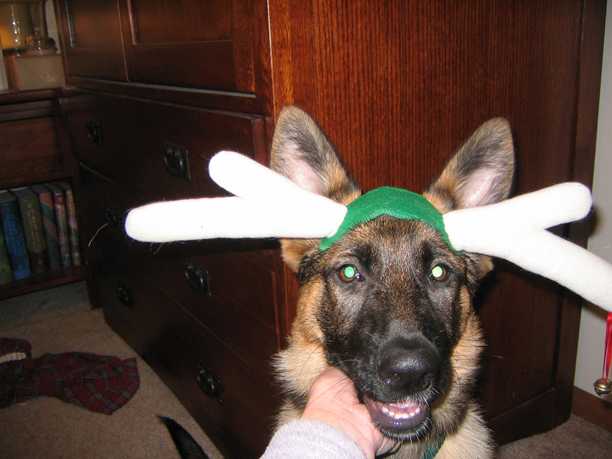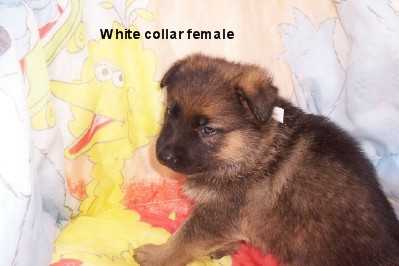 Stephen adopted Yellow collar female and named her Becky. His computer crashed shortly after getting Becky but he has called me a few times to keep me updated. Becky lives on a large cattle ranch in Montana. The family has their own homes on the ranch and all have dogs. Becky has had the opportunity to be exposed to playing with Rottweilers, Dobermans, Corgi's, Poodles and now a young Akita. Stephen has said she does good with the other dogs. While it was cold she stayed at his moms when he went to work and had the Corgi's for company. She will stand at the fence watching as he left for work and then go about her day but always be there waiting when he came back because she knows his tractor. I told Stephen she may be able to help with herding the cattle when she got bigger and he said she "is practicing up on my moms ducks and chickens"! Below are a few pics of Becky at about 3 months of age.
A recent email from Stephen about Becky!
Nancy,
How is everything going for you? well i hope everything is going good. Sorry i havent called or emailed you in a long time. I feel like a heel over it all. Calving is over and done with. We got the computer going so i will send you some pictures, and soon as i can. Becky is doing wonderfull. She is the best dog that i have ever owned or been with. I have a Lassie story for you about Becky. We went fishing at Skinner Meadow's up in the mountains and we were fishing and Becky was chasing gophers, squirrels, and chipmunks. at the end of the day when we were getting done fishing she started to growl, and came right at my side. I thought she was paying attention to something in the distant. Not much to worry about, Wrong she spotted a mountain lion about 80 yards away. So we packed our stuff and headed right for the truck. Thanks to Becky she let us no what was up, or we might have never seen it, or worse.
We lost our family rotty, and it broke all of our hearts,(including the dogs) and got two akita puppy's, and Becky loves them. Becky has been helping my mom take care of them letting her no where they are. She has been really good to my mom always checking on her when i leave her for the night. I was also wondering on when you will be haveing your next litter. I want another German Shepherd for my mom, and family. My mom has fell in love with Becky, and she has been talking about getting one. Becky and my mom have a strong bond, but not like we have. Thanks a bunch Stephen


Click the thumbnails below to enlarge pictures.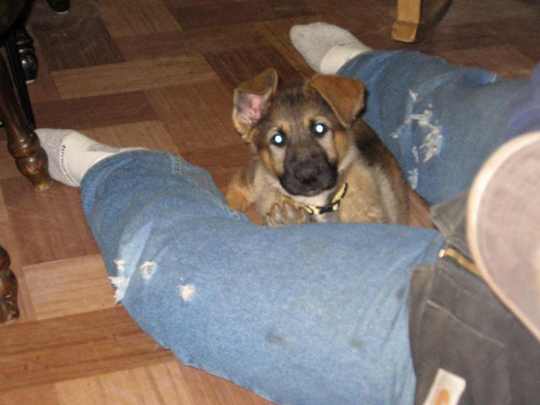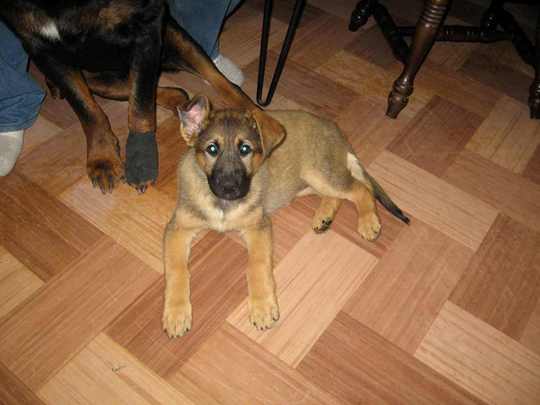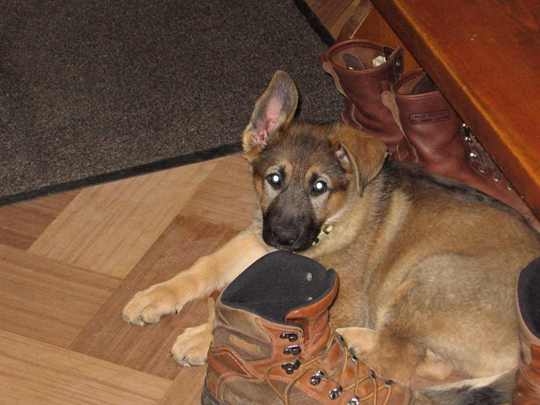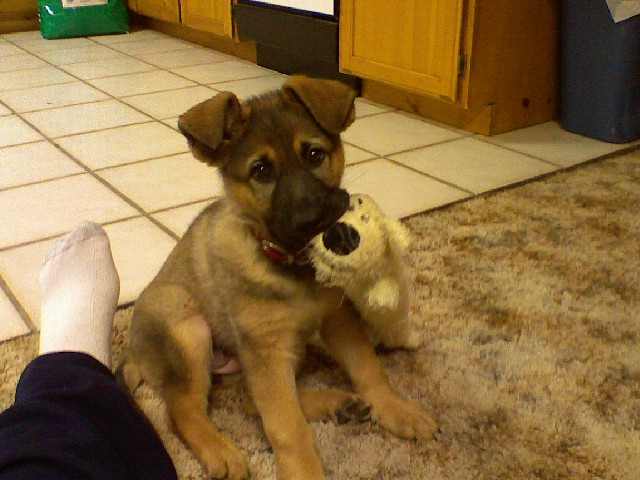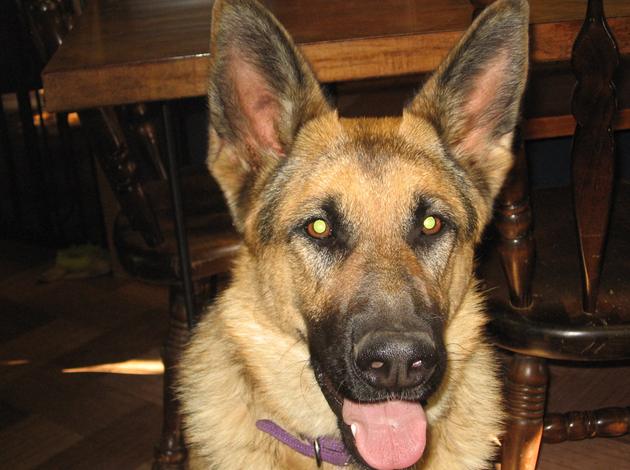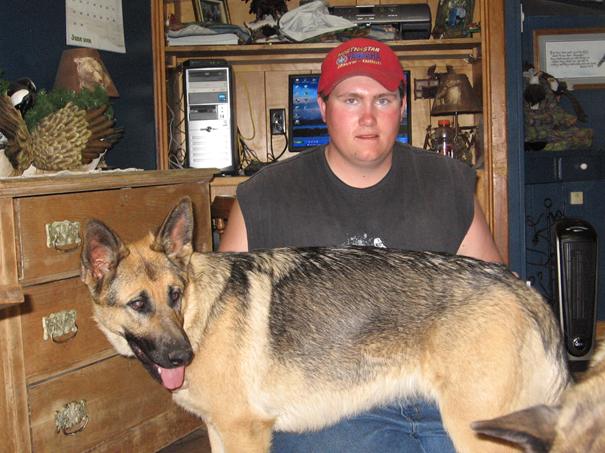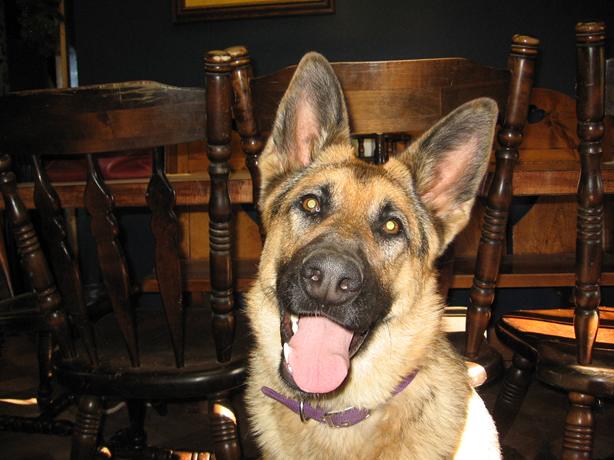 Nikole has adopted my red collar male and named him Axel.
Hi Nancy,
I am so sorry it has taken me such a long time to respond. Here are two pictures of Axel from Solomonís 2nd Birthday party. We tried to get the pics of him ripping the wrapping paper up but our camera has a delay whenever a picture is takenÖ(I thought digital was supposed to be betterJ). How are you? I hope all is well. Things are clipping right along on this end. Axel is doing so much better. He really is STELLER now. He is probably the most beautiful shepherd I have ever seenÖÖ.and he is such a little (BIG) lover. Things are good here and he is my sweet boy with A LOT of energy and zest for life. He amazes me, heís so smart! Thank you for everything and Iím looking forward to hearing how things are going for you. Hope youíre having a nice day. Nikole (Billings,Montana)



Hi Nancy! I hope all is well with you and yours.
Things are good on our end. Axel is a sweet, beautiful boy. Solomon is most sweet as well (2 yrs.). This Christmas has proven to be very interesting for him. I have had to get the tape out and perform some patch up jobs on the gifts. He is excited to celebrate Jesusí Birthday and have ďbirday cake!Ē. He doesnít really understand the Santa thing yet. However, once he gets up and sees that Santa has come he certainly wonít forget!
I wish you and yours a wonderful, safe Holiday and a very healthy, prosperous New Year.
Blessings & love,
Nikole


Click the thumbnails below to enlarge pictures.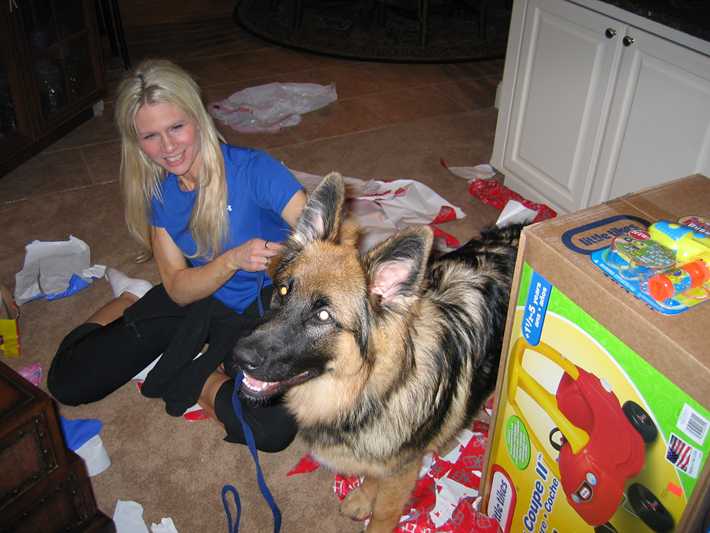 End of 2007 litter Testimonials
Shelly took in one of the first two dogs I owned that did not work out. She was aware of the problems with temperment and health Wolf had at the time. I placed Wolf with the stipulation he would be returned to me if it did not work out for her, and that if she kept Wolf and gave him a good home, I would give her a puppy on his demise. Regretably Wolf became ill and had to be euthanised about one year later. Below is a letter from Shelly about Wolf and her new puppy Ruger.
Nancy,
Hello, Just a short note to say Happy Holidays, and to thank you so very much for your kindness and generosity--for giving me two wonderful dogs, Wolf and Ruger! I'd like to do some basic obedience with Ruger, give me a call sometime when your in town.Thanks again!Shelly
(From Ruger!!)
Just wanted to say thanks for making sure I had a great home, where I'm loved and I guess it's pretty fair to say spoiled. Just wanted to let you know I'm very happy here!
Happy Holidays,Ruger
Ruger is a Storm x Anke pup
Click here to see a picture of Ruger
Sofeea has purchased five dogs from me, two for herself and three for friends.Her first dog, Pumpkin met with an untimely fatality in her youth, hence the purchase of her second puppy Slugger.Both puppies were out of Anke!
Dear Nancy,
Enclosed is a picture of "Montana's Pumpkin". I want to thank you for letting her join our family.On Tuesday Sept. 3,1996, she died from an unfortunate accident. We had just gotten home and let her out of her kennel, we had just given her a present (chew toy). My husband drove up and let his chocolate lab out, she ran onto the porch and brushed against two wooden totem poles we have. One of them fell over...she died instantly.
I have to tel you that Montana was the perfect pet. She loved us and was always ready to play or just snuggle. She was beautiful too, I will miss her deeply. She was always around following me everywhere. I was having a great time teaching her new things.... Thank you for picking out the "perfect puppy" for me.
Sincerely,
S. Hoffman (WA.)
Click here to see Pumpkin!
Click here to see Slugger!
Bergtal's Rommel v Big Sky SchH 1, OFA is a Storm x Anke puppy. Rommel is currently working towards his SchH 2, agility and weight pull titles.
"We can't say enough good about Rommel, he is a joy to be around. He gets along well with the children in our daycare and has been very easy to train.Obviously he is also a handsome guy!" Cathy Newman (406)728-2477 or hunden@uswest.net
Rommel is a Storm x Anke puppy.
Click here to see a picture of Rommel!
"GUY" CDX, is a Saber x Anke puppy. He and his owner Gene are currently spending the winter in sunny Mexico. Read what his trainer Marielle Schmidt of Dogwerks Training Kennel ( trainer of multiple Schutzhund 3 and AKC UD dogs) has to say about "Guy".
"Guy came from his home has a house dog but had no problem adjusting to kennel life. He was a quick learners and took less than a month of training to be ready to compete for his CD title. Once he accomplished this he went back home for a year. When Guy came back he had retained everything he had been taught and it took about two weeks to teach him a CDX routine. He took a first and third place ribbon on two of his three legs to his CDX title. Guy was definately one of the easiest dogs I have ever trained." Dogwerks (406) 258-5466 or dogwerks@aol.com
Click here to see a picture of Guy!
"Fred" is also a Saber x Anke puppy. He is a police K-9 on active duty and certified in narcotics detection, tracking, patrol, building search and criminal apprehension. Read what officer Davito has to say about Fred.
"Fred is a great dog, these pictures don't do him justice. He has been easy to train acquiring his certifications before he turned two years old. He is good with kids too and has done demonstrations at different schools for them. If there was a SchH 12, I could get it with this dog!" D. Davito (New York)
Click here to see a picture of Fred!
Dear Nancy,
Hi, my name is J. Sharon. We bought one of your German Shepherd puppies about three years ago. She was out of Desert Storm and Schutzengel v Big Sky (Anke). We named her Natasha v Highlander, but we call her Tasha. We have another dog called Rudy a Golden Retriever, Tasha likes to tackle him and play with him. Tasha has a wonderful disposition, she is sensitive yet protective. She is also very smart.
Tasha and enter obedience and showmanship classes once a week. We just had our 4-H dog show.In the past we recieved--year one--2 blues, year two--1 blue and one reserve Champion. But this year we recieved two Grand Championship Ribbons!! Tasha and I are going to continue with our dog classes and next year start jumping and hopefully carrying stuff in her mouth.
I thought I would write you and tell you we are very happy with her. Her disposition, conformation, everything!
Sincerely,
J. Sharon (Montana)
Click here to see Jenny and Tasha!
Dear Nancy,
Sorry for the long delay in writing. It has been a very busy year for us. I graduated from college last May and have taken the CPA exam.We took our first vacation in nine years and went out to the west coast. I don't know where the summer went! I am now looking for a job.
Annie is doing GREAT! She weighs sixty pounds and has lots of energy. She still has a strong drive and can't stand to be separated from the kids. I have weaned her out of the house to her kennel at night. She runs in the yard during the day when I'm home. She knows the sound of the school bus and starts to get excited. Then she runs...she holds her ears just like Tell's--it is beautiful! We've had many compliments on her.
We got a six week black kitten last year at this time. They became instant friends and playmates. We named the cat "Shadow". They still love to play together.
Annie loves to run! She has become a constant companion to us!
Sincerely,
S. Knutson (Montana)
Annie is a Storm x Anke pup
Click here to see Annie and her friends!
Dear Nancy,
Hawk is just about the greatest dog. He loves the water and retrieves everything, and we all don't know what we ever did without a German Shepherd. He and Idgie are best friends. He snuggles in on the bed every chance he gets.
His ears are way up! Sometimes they criss-cross over each other! His coat is still really fuzzy, puppy coat. Sometimes I think it might be changing but he is still pretty "hairy"! He is beautiful and has the best personality. I can't say enough good things about him. There is nothing bad at all. In fact some friends are interested in a puppy in the future when you breed again or could you refer them to someone with dogs as nice as yours?
Thanks Nancy, it's amazing what a little something different can do to people's lives. We just love him!
Sincerely,
Seth,Betsy, and all
Betsy has always raised, trained and bred Labrador Retrievers. She bought "Hawk" for her son, Seth. Hawk is a long coat German Shepherd by Storm x Anke.
Click here to see a picture of Seth and Hawk!
Yeta is a Tell x Abby puppy. The last puppy in the litter I decided to give to Nancy, who worked in the courthouse in town, before I got attached to her.Nancy moved to Oregon about two years ago to help care for her elderly mom and has sent pics of Yeta now 9 years old.
Hi Nancy,
Been meaning to write you for a long time. I am settled in Portland, Oregon with Mom and Yeta has adjusted very well. She misses her long runs in the park and woods, but I walk her twice a day and we see quite a lot. Sent a couple of pictures 2 different ways hoping you can get at least one. Just thank you so much for this wonderful companion. I don't know what I would have done without her the last 2 transitional years. Hope all is going well with you and getting ready for all the things to do come spring. God bless, Nancy Coles


Yeta is a Tell x Abby puppy.
Click here to see a picture of Yeta!
Dear Nancy,
I've moved to the Boise area. After Nathan finished school, he took the first job offered to him.
I had to leave Hans behind, but it is only temporary & hopefully he and my other male dachsund can join us soon. We only brought Bob because he and my son are so close.
I brought Hans down a few months ago for a visit. He did really well! I sure miss him.He's gorgeous and my dad doesn't want to give him up because he is so obedient and good with the little dogs.Everyone has complimented me on how good looking he is. I had one lady ask me if he was for sale!
I better end this. Take care!
Sincerely,
N. Mandigo (Idaho)
Hans is a Saber x Anke pup.
Click here to see Hans!
"Czara is a pup I bred by Baron v Schwartzhund AD, OFA and out of SG Vara v Luckenroth SchH 1, Kkl 1 "a". Baron and Vara can be seen in my picture section. When Czara turned two years old, her owners had her OFA'd and bred her with Tell v Big Sky SchH 1, CGC, OFA. Bela and Sabar are two pups from that breeding. The following are testimonials are about Bela and Sabar:
"Bela is the nicest dog. She is great with kids and other animals yet very protective of our yard. When she was less than one year my daughter and I would bring her to feed the horses. The people that owned the land where we had them boarded had a few cows and geese. Bela never bothered any of them but when we would carry in the hay if the cows came close we would have her keep them back, also sometimes the geese would try to bite us and Bela would just naturally herd them away as well.
It is to bad I don't have time to keep up with her Search and Rescue training, but I have to tell you this....last week we took the two dogs Nero (our other Shepherd)and Bela for a walk in the woods. Nero took off after something. He wa gone for quite a while and we were getting worried. I wasn't sure if I should do this but I told Bela "to go find him". She took off, after 10 minutes I was really getting worried because now both dogs were gone! Just then here came Bela with Nero close behind! Whew! She is GREAT!!"
Your friend, Renee'(email)traveler83@hotmail.com
Click here to see a picture of Bela!
Nancy,
Sabar is a big teddy bear!! He is so good to us!! Very protective with us! I will send you some pictures of him and write more when we get back after the Holidays. Until then we are wishing you and your family a very Merry Christmas and Happy New Year!
Sincerely,
E. Kozel (Pennsylvania)
I have not yet recieved a more recent picture of Sabar.Click here to see a picture of Sabar taken when he was six months old!
Dear Nancy,
Here's the picture's of Smokie. Isn't he gorgeous!? Everyone who meets him loves him and I hope you don't mind me telling them where he comes from,i.e-you're a Super breeder!! If you breed this line again I would love to hear from you. I am starting to build my home on 5 acres in Hamilton on the westside. I'll have a kennel added to my garage where I can keep large dogs enclosed. I hated to part with Smokie; however he has a good loving home out on 60 acres. His new owner loves him very much.
You can see how big Smokie is next to me now that you know what I look like now too. He weighs 91 lbs. Jim told me and he's only one year old. Absolutely sound. The police dogs here aren't as nice as him. So if you have a police dog prospect you have a great reputation through Smokie.Hope your as impressed as I am! Keep in touch!
Love,
L. Williams (Montana)
Leslie has her name in for a puppy out of Tell x Abby.
Click here to see Leslie and Smokie!
Leslie did not buy a puppy from the litter from Tell and Abby because her house was almost broken into during the middle of the night. She therefore decided to look for an older dog. In looking through the classifieds of the local paper she came across an ad for some adult German Shepherds. When she went to look she found one there that was from my kennel and purchased her. Kooskia was from a Vara X Baron breeding and had been a pick pup that fell into the hands of a lady whose breeding ethics are, in my opinion, less than desireable. I had tried to purchase this dog back a few years prior when I found she had her, and even tried to take her to court but to no success. I am in contact with Leslie who in the future may still get another dog from Big Sky.This is what she has to say about Kooskia, even after she lived for a few years in not so great an environment.
Kooskia is a very large and beautiful dog. She gets along well with my children as well as my Dachsund and Border Collie.She has a very deep bark and has shown she can be protective. I really love this dog. We have bonded together well and she is by my side constantly. Koos will live out her life here with us.
Leslie
ljwilliams@bitterroot.net
Click here to see Kooskia in her home at Leslie's
Hi Nancy,
Wouldn't you know we have very few still's of Gus just standing. Have been taking video's every week to note his growth, which is amazing! We are so happy with him! Can't thank you enough! We love him dearly, he's very rambunctious; eats the Lab and licks Max constantly. He is learning how to hang out in their pen, doesn't like it much, but with Max he'll be calm about it.He loves the lake (brrr)should have alot of fun this summer! God I feel silly with all the "baby" pictures I took for those special memories (new mom syndrome!) Gus was house trained in two days, never another doubtful moment on that. Thank God! More later,Amy! (Montana)
Gus is a Tell look alike! He is by Tell x Vara!
Click here to see a picture of Gus!
"Luna is a great dog! I can't say enough good about her. She is super intelligent, sometimes I think she knows what I'm going to say before I say it! She is just a natural at herding the cattle here on our ranch. I have done some tracking with her too, she is awesome! Everyone who see's her is impressed..."
Joel Norgaard (406)726-3518
Luna is a Tell x Vara puppy!
Click here to see a picture of Luna!
Below are some owners of Vara puppies, some of which were already included above that were sired by Tell.
BAVO BRAG!
Bavo was a wonderful pulling dog this weekend. There were not many there but it was the first and only snow pull of the season. Bavo had to out pull a wolf cross who had beat him on wheels in Missoula and he beat her BOTH DAYS, in fact he pulled the most of any dog (even the 110 lb. wolf dog) on Sunday working his little heart out!
Now he's in first place for the region for snow pulls with 12 points!
Sincerely,
A. Weiler (Montana)
SG Bavo v Bergweiler SchH 3, CD, CGC, OFA Kkl 2 "a" is a Vara x Tino puppy!
Click here to see Bavo!
The following letter is from a couple that bought two Vara pups, Britta a Bavo littermate, and Anna was sired by Baron.
Dear Nancy,
Britta is just wonderful. She never tires and is just a delight. She is very, very smart! We take her everywhere with us- and I even hate to leave her to go to work. Sometimes she gets to go there too- she looks forward to seeing everyone- but she's getting bigger and harder to smuggle in.
This puppy thinks life is one big game and she is the prize! It is very hard to get mad at some of her antics because she does everything with such positive enthusiasum that she can't believe she can do anything wrong!
We went to a fun match for socializing- but the AKC judge did like her very much- most everyone who saw her did like her.
We want to get another puppy this fall. Another female- maybe you'll have another litter by then??...
Hence along comes Anna. John and Ellen decided they wanted something a little calmer this time. Read about Anna....
....Annalesia-totally different dog-very funny. Now I believe she could be a good Schutzhund dog too, but since Britta hurt herself on the fence we decided to go the AKC route.
As you can see Anna is nearly as large as Britta-she's not as long and is heavier boned. She eats like she's starving, but she is lean- but much more stocky. She is verbal and loves it outside. I think because she has a heavier coat.
Anna is a lover-she loves to be petted and hugged. She's very calm and cannot keep up with Britta's running. She is also stubborn. She is more cautious than Britta in that she thinks before she leaps. She is very willing to please. I can see many times the dogs are half sisters, other times they are like night and day....
John & Ellen (Washington)
Click here to see Britta (right) and Anna (left)!
Dear Nancy,
We are enclosing to you this picture of Tana (Peaches) the pup we bought from you two years ago. She is a sweetheart. Tall, graceful, and extremely loving. Very intelligent too. We are very happy with her. She is everything we hoped for in a companion.
Sincerely,
Chet and Jeanne (Montana)
Tana is a Baron x Vara pup!
Click here to see a picture of Tana and Jeanne!
Dale purchased Magnum for his family, then later purchased Rambo because his parents liked Magnum so well. Both dogs are sired by Barom. Magnum is out of Vara and Rambo is out of Anja.
Dear Nancy,
Here are some of the latest pictures. Sorry it has been a while since we talked, alot of changes tok place and it looks like we are going to stay in Montana after all.
Magnum has alot more brown on his face and front than Rambo. Magnum weighs about 90 lbs. and Rambo weighs about 85 lbs. Rambo's coat is heavier. Magnum is real stout and very protective, and alert to everything. Both dogs are smart and are just perfect! Thanks again!
Dale (Montana)
Click here to see Magnum and Rambo!
Jackie's sister purchased her a male puppy for her birthday from Storm and Anke's second breeding. When he was two years old he became ill and Jackie took him to the vet. He was diagnosed with being poisoned and could not be saved. When she called me I could tell she was devasted and had no idea why, as her yard was fenced and her dog never got out. She said when she could afford another dog it would go everywhere with her. I had a litter on the ground by Baron and Anja, with only females not yet spoken for, Jackie had never owned a female...but I offered to give her one. She was elated as she had never been long without owning a German Shepherd, as she lives alone in the country. True to her word her dog goes everywhere with her, including to work!
Dear Nancy,
Thank you for the card! "Shadow" is doing fine. I have never had a better dog or should I say friend. Sometimes I forget she is a dog, I think she does too!
She is going to have a birthday on the 17th, I can't believe she is already two. I am sending you a couple of pictures of her and I hope you like them.
Nancy I can't thank you enough, Shadow means everything to me, I don't know what I'd do without her.
Jackie (Montana)
Click here to see a picture of Shadow!
Hi Nancy,
Sorry it has took so long to get these pictures to you.These pictures were taken about a month and a half ago, needless to say she has grown some since then. I have to keep reminding myself that she is still a puppy.I expect her to act like an adult at times because of her size. Just recently she thinks about acting like a watch dog. When someone comes to the door at night she will bark at them. But she is not mean. She loves everybody!
I took her to one of Sue's FUN Matches and she didn't do to bad, considering it was both our first time. She just messed up the sits and downs, but does them well at home. She was just not used to all the distractions, we are going to go again, we both need the practice!
Take Care,
L. McDonald & Andi (Montana)
Andi is a Baron x Anja pup!
Click here to see Andi!
Update!!
Hi Nancy,
I am not sure if you remember me, my name is Leslie McDonald.We bought a puppy from you in February of'95. I haven't sent you any pictures of Andi since she was still a puppy. I thought you might like a picture of her as an adult.She is an excellent dog, grown up but still very much a puppy!
Take care,
Leslie
Click here to see Andi grown!
Dear Nancy,
We haven't forgotten you either! We have lots of pictures of Sherlock, but none of them are developed! We are really slow about getting that part done. We will definately send you some when we do. He is our big baby and we love him. He is good natured and loves to obey. He is friendly but would protect. He is very smart and he is beautiful.He gets alot of compliments.
The Groves
Regretably I never did get a picture of Sherlock..when I sent out Christmas cards this year it was returned, they had apparentely moved.