Current Litter Info

Ivan and Zena puppies were whelped August 19, 2010!! There are 7 healthy, large, uniform pups, 3 males and 4 females! Pups will be black and tan or black and red!These pups pedigrees are closely related to my 2007 breeding.To see pics of my 2007 litter click Testimonials!

Ivan/Zena pups at one day old!!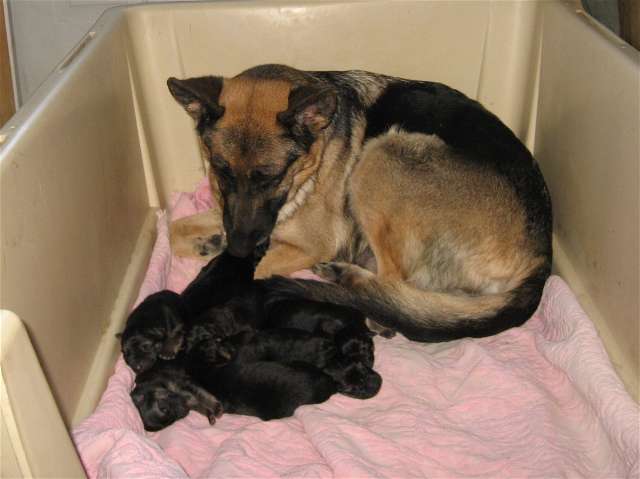 Ivan/Zena pups at ten days old!
Pups at three weeks old! Cute or what!!??
Pups at 4.5 weeks of age!
| | |
| --- | --- |
| My collar is itchy! | Male pups on the go! |
| | |
| --- | --- |
| Cute male! | The girls, let me out of here! |
Pups at 6 weeks!!
| | |
| --- | --- |
| HI! | WOOHOO! |
| | |
| --- | --- |
| Give me that! | I said,"GIVE ME THAT"! |
| | |
| --- | --- |
| You are really ticking me off here! | Finally,"GOT IT"! |
Pups at 7 weeks!!
| | |
| --- | --- |
| Gorgeous female! | Very nice male! |
Int. CH. Ivan vom Big Sky CD, CGC, OFA has been bred to an outside female, Zena vom Haus Peck OFA. I have one puppy coming for stud fee from this breeding! SOLD!

Congratulations Michael on your purchase of purple collar male! May he live up to each and every one of your expectations!
Named "Scout"!!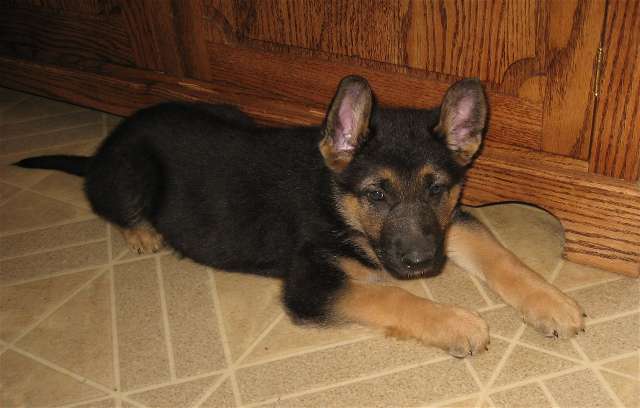 For more info and pricing on remaining puppies from this litter please contact Marianne Peck at 406-287-5669 or email: peckk9@gmail.com
Ivan is a large, black and red/tan male standing 26 1/2" and weighing 105 lbs. He is a sweet, happy dog with a desire to work and please. He has a calm, stable/ confident, outgoing temperment. Ivan has an infinate desire to chase and tug a stick outside and loves to play ball in the house, but he does have an off switch and is content to lay around when nothing is going on. Click his name under his picture for more info/pics on Ivan.



For a picture pedigree of Ivan Click Here!
If you would like to see Ivan's Titles, Certifications and Judges Critiques Click Here!
If you would like to see Ivan's OFA results Click Here!
Zena is a medium size black and reddish tan female. She has a sweet outgoing personality. Zena is a house dog and companion to her owner/breeders and used occasionally to help move their cattle. Her sire Wache v Bullinger CGC, OFA is a Canadian import sired by VA Kevin Murtal, owned by Haus Peck and was also the sire to my 2007 litter. For more info on this outstanding young male click on Wache's Page
| | |
| --- | --- |
| Ivan | Zena |
Puppy Pedigree
Int. CH. Ivan v Big Sky, CD, CGC, OFA (Fair, normal elbows)

SG Graf Bavo v Bergweiler SchH 3, Kkl2 BH,U-CD,CD,WD OFA (Good h/e)
Tino v Beilstein SchH3,FH,IP3 "a" normal (23x SchH3)
SG Vara v Luckenroth SchH 1 "a" normal
Addie v Big Sky Certified Therapy Dog, RN, CGC, OFA (Good h/e)
Tell V Big Sky SchH 1, BH, CGC, OFA (Excellent, elbows normal)
Abby v Big Sky OFA (Good h/e)
Zena vom Haus Peck OFA (Good h/e)

Wache v Bullinger CGC, OFA (Good h/e)
VA Kevin v Murrtal SchH 3 "a" normal
V1 Weezy v Bullinger SchH3 "a" normal
Pascha vom Haus Peck OFA (Fair h/e)
Arko vom Lowenhaus BH, SchH1, OFA (Fair h/e)
Ula vom Haus Peck Service Dog, OFA (Good h/e)
2011 Planned Breeding
For info on my 2011 planned breeding CLICK HERE!!
Guarantee
To see pics of typical Big Sky Shepherds pups please click my Testimonial and Cute Puppy Pic's links.
If you would like to see how I raise my puppies Click Here!